Adoption Rates Increase As Companies Focus On AI's Potential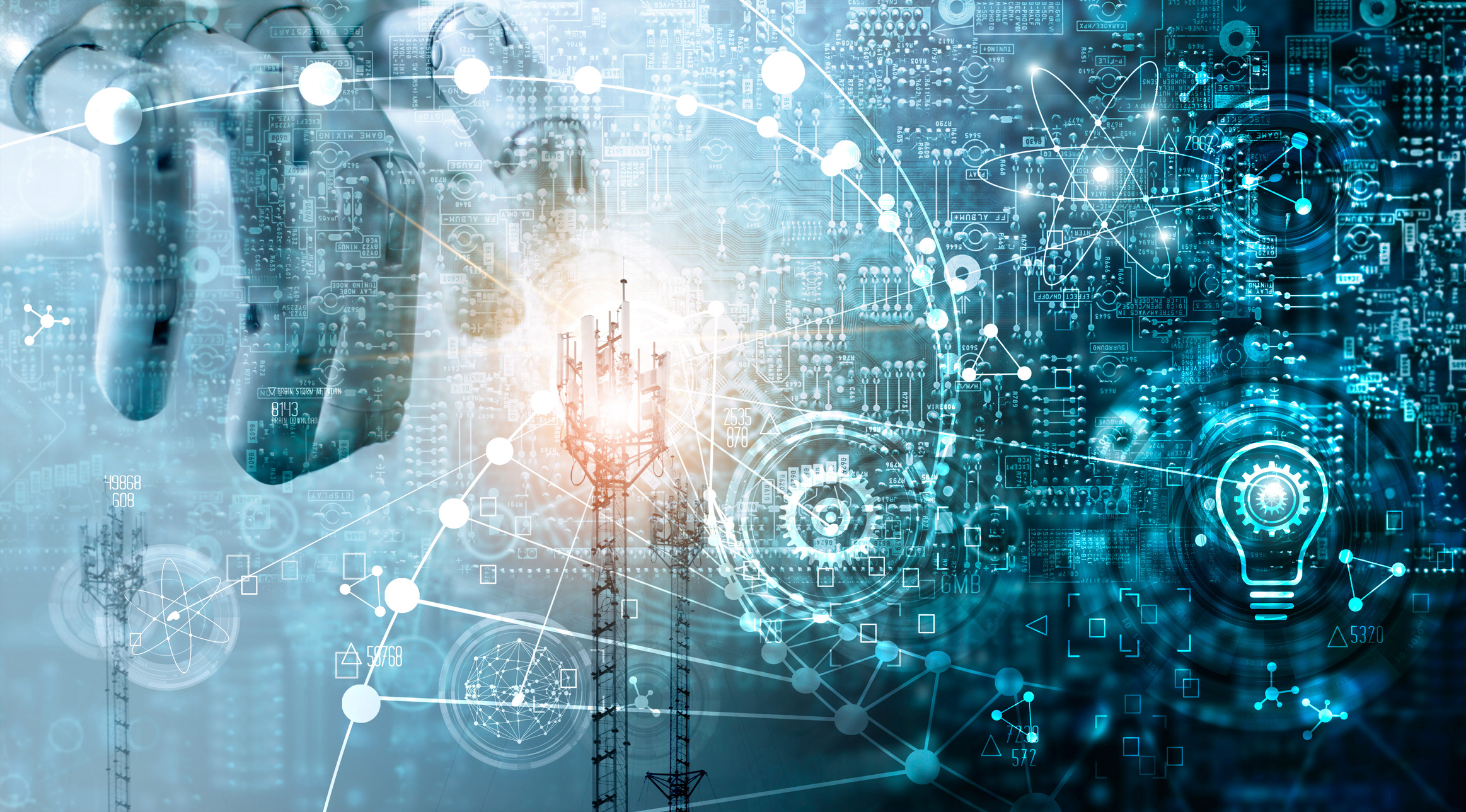 The singularity is coming closer, but humans still have a major part to play in AI adoption.
Artificial intelligence (AI) may still be some way from being part of daily life for the average person, but AI is already becoming a business focus for companies.
A recent survey of 106 IT business professionals by Gartner Research found that organizations currently working with AI – and, by association, machine learning – have an average of four AI/ML projects in place. And while most of these projects are likely to be either conceptual or at an early stage of integration, Gartner's AI and ML Development Strategies study said that 59 percent of survey respondents had begun to deploy AI systems in some capacity.
According to the survey, the number of AI-centric projects will rise in the next 12 months, with respondents expecting to add six more to their operating practices by the end of 2020. This figure will exponentially increase in the next four years, the authors of the study said, with organizations expecting to have an average of 35 AI/ML-powered applications in place by 2022.
Motivation for these projects is being driven by two business-specific areas – customer experience (CX) and task automation.
Around 40 percent of respondents said that CX was the prime reason for the integration, while 56 percent said that they already use some sort of AI tech to support internal decision making and employee-focused recommendations. Task automation was a motivator for 20 percent of respondents, with document control in finance departments (invoicing, contract validation) and human resource activities such as applicant tracking and interviews scoring highly.
"We see a substantial acceleration in AI Adoption this year," said Jim Hare, research vice president at Gartner, in a press release. "The rising number of AI projects means that organizations may need to reorganize internally to make sure that AI projects are properly staffed and funded. It is a best practice to establish an AI Center of Excellence to distribute skills, obtain funding, set priorities and share best practices in the best possible way."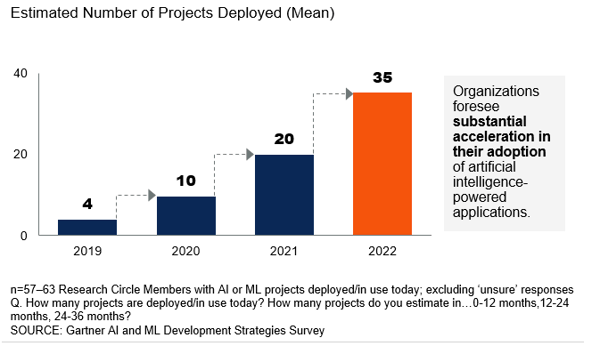 Don't Believe the Doomsday Hype
Much has been written in the media about the eventual integration of artificial intelligence into our connected society.
Some high-profile members of the tech community - including OpenAI co-founder Elon Musk - have issued dire warnings about AI, going so far as to predict doomsday scenarios that could have come straight from the pages of a science fiction screenplay. Other thought leaders have been more accepting of AI's potential, with NBC reporting that Bill Gates told attendees at a recent AI symposium, that the power of this technology is "so incredible that it will change society in some very deep ways."
Irrespective of whether you are an evangelist or living in fear, there is little doubt that AI is likely to play a major role in the industrial sector in the next ten years. With the power of AI and (potentially) machine learning behind them, companies will be able to both increase their levels of automation and generate actionable data, two business optimization tools that would be beneath the capabilities of fictional AI such as HAL 9000, JARVIS or Tron's MCP.
The caveat, Gartner said, is that there is still a considerable disconnect between what AI could do and the current level of the technology's capabilities.
Gartner's survey said that respondents cited a lack of in-house skills, an understanding of AI-centric use cases and concerns with data scope or quality as future pain points to be solved. However, efficiency and continuous improvement were flagged as reasons why adoption rates would become more aggressive in the next five years.
Skill gaps can be addressed using service providers, partnering with universities, and establishing training programs for existing employees," Hare said. "However, establishing a solid data management foundation is not something that you can improvise. Reliable data quality is critical for delivering accurate insights, building trust and reducing bias. Data readiness must be a top concern for all AI projects."
AI's Potential is a Quality Issue
As AI is more likely to be employed in mundane tasks by various industry sectors in the immediate future, the predicted AI revolution is probably going to be rather low-key and bear little resemblance to a Hollywood-generated dystopian future.
Companies, for the most part, are taking a cautious approach to AI, investing in pilot projects that focus on IT automation, cybersecurity, predictive analytics and quality control. The latter was recently cited as an area where AI displayed significant potential, with a 2018 Deloitte survey of U.S. executives noting that 46 percent of respondents were confident that AI systems could handle quality-related processes.
According to yet another report by Gartner, project management (PM) is going to be one of the first working processes to benefit from the integration of AI, with around 80 percent of today's PM functions completed through an enabled AI program by 2030. Data collection, analysis and reporting are all standard parts of PM, Gartner said, and AI will make the process faster and less reliant on humans.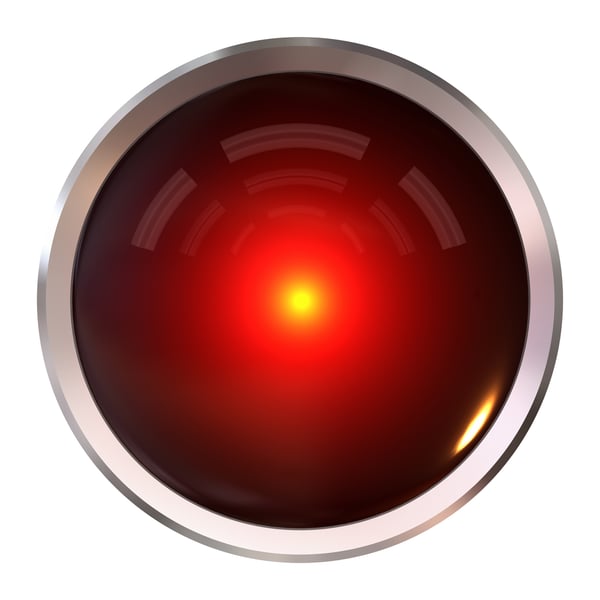 Notwithstanding the media attention and the ramping up of Skynet-obsessed doomsday visions, the simple truth is that we are still in the early stages of AI integration.
Gartner's 2018 Hype Cycle put AI firmly in the Innovation Trigger phase of emerging technologies, and the research company doesn't expect the tech to reach the Plateau of Productivity – the moment when that tech reaches widespread adoption – for more than 10 years. This may change when the latest iteration of Gartner's annual graph is released in the coming weeks, but the smart money says that AI will remain a work-in-progress for the vast majority of industries.
Provided that Gartner's crystal ball is programed correctly, then AI may still be on the fringes of the industrial ecosystem, rather than being an integral part of the quality process. However, that doesn't mean that we should ignore the potential for AI, rather we should accept that the tech is still crawling rather than walking … when it starts running, then that is when we see the impact on business optimization tools.
ETQ helps organizations realize the business opportunities that quality creates. Our industry-leading Reliance 2019 SaaS solution features built-in best practices and best-in-class flexibility, with the software enabled to optimize the critical processes that drive excellence through quality.
To learn more about how ETQ can help you become a quality leader, contact us today. Alternatively, reach out for a demo, and find out how to move through your quality journey.