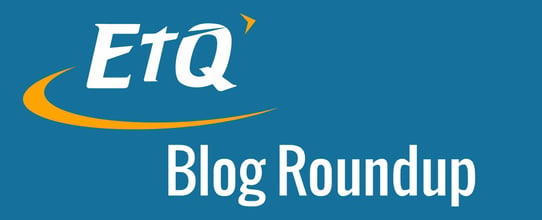 In this roundup, we pull from the EtQ archives to show you the benefits of an integrated Quality and Environmental Health and Safety (QEHS) system. Read on to learn the similarities between Quality and EHS systems in terms of ISO standards, learn about the benefits of combining these initiatives into one system and more.
Using Three ISO Standards to Benchmark QMS and EHS Convergence
One of the things that make ISO standards so useful is their correlation amongst each other. Many ISO standards, especially those that deal with management, are based off each other. This can come in handy when looking to add new management systems to your organization. Chances if you are already ISO 9000 compliant, you have most of the requirements covered in other management standards. Read more.
---
The Convergence of EHS and Quality Management
With respect to IT, a growing trend lies in their efforts to improve processes by integrating and consolidating systems. Often, companies "tack-on" new systems to operate processes, until you have a dozen or so systems that have similar functions. IT is now looking to say, "What can we combine to make our lives easier?" For our industry, this is happening in two very similar areas - Environmental, Health and Safety (EHS) and Quality Management Systems (QMS). Read more.
---
We the People: A Trained Employee-centric approach to QMS & EHS – by EtQ
Quality Management Systems and Environmental Health and Safety Systems share enough commonalities that they can easily be converged into a single system.
If we were to take the ISO standards for Quality (ISO 9001), Environmental (ISO 14001) and Health and Safety (OHSAS 18001), we would see that they match up quite nicely with each other (with a few exceptions, of course). It was stand to reason that creating a converged system can work. Read more.
---
ROI: Assessing Value in a Quality and EHS Management System
Let's dispel any misconceptions first - software is not just a tool, it's an investment. Quality and EHS management solutions require upfront costs, and upfront effort to get it up and running, and the returns only come after you've put financial investment into the product and financial investment into the implementation. The key is how quickly you expect to see a return. Read more.
Download the ebook below to learn how technology drives EHS performance.
Have you subscribed to the EtQ blog yet? Don't miss out on weekly news, updates and fun takes on enterprise software!
LNS Research eBook: Driving EHS Performance with Technology