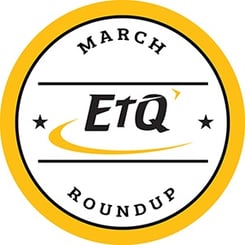 This week's roundup consists of March blog posts you may not have had the chance to read. So, for your convenience we have rounded them all up in one place! Read more for posts regarding food safety, training mistakes, quality management Jedis and how automated software helps in achieving your goals.
4 Critical Food Safety Gaps (and How to Fix Them)
The number of food recalls has doubled since 2002. At least half of all recalls cost the company $10 million or more, often dealing a significant blow to brand perception and stock value. When the latest food safety headlines appear, everyone always wants to know—how could this happen?
In many instances, contamination can be traced back to unsanitary conditions in the plant. But if you look beyond the surface, you'll see many cases are about more than just poor sanitation practices. There are other critical gaps at play as well. This post looks at 4 of the most common of them. Read more.
---
How Can We Use Big Data in the Food Supply Chain?
When consumers ask where their food came from, the answer isn't "the supermarket". These days, they're looking for provenance, traceability, accountability. Peace of mind that – in today's border-spanning, agent-intensive, globally networked sourcing environment – is getting more and more challenging for supply chain and quality professionals in the food and drink industry.
But quality experts today have a secret weapon – the big data in the supply chain. With the right tools, you can turn that data into accurate insights that help you control risks before they happen. For instance, how would a bad harvest in India endanger allergy sufferers? Read more.
---
Are You Making These 4 Classic Training Mistakes?
"Welcome aboard! Please direct your attention to the flight attendant at the front, as we have some important safety announcements to share…"
How many of us actually listen to pre-flight announcements? We've heard the spiel and we know what they're going to say. As a result, many of us just tune out and continue playing on our phones (on airplane mode, of course).
Unfortunately, it's much the same for employees during safety training. But it's not entirely the employee's fault. Often, the responsibility lies with the employer who's missing the chance to provide engaging, effective training. To figure out where you might be having problems, take a look at this list of 5 classic training mistakes. Read more.
---
3 Lessons from Quality Leadership + Can You Have Both Collaboration and Security?
This week's roundup focuses on quality as a whole. Learn three lessons from quality leadership and get insight into the importance of quantifying quality in the healthcare industry. We'll also look into some tech considerations that will ensure all of your bases are covered when it comes to collaborating securely. Read on to learn more.
---
Is Your Emergency Response Plan Effective? 6 Ways to Tell
Years ago, I went on a backcountry skiing trip with some acquaintances. I packed an avalanche beacon, shovel and probe, taking time to practice using them in case the worst happened. I checked and double-checked my list, feeling prepared and excited as we drove to the remote mountain trailhead.
What I didn't plan for is how unprepared the rest of the group would be. Not only did we not start the six-mile hike to the yurt until dusk, once we arrived I discovered nobody else brought avalanche safety gear. I ended up bailing on the trip, but needless to say the experience exposed some gaps in my rock-solid plan.
Similarly, many companies think they have an airtight Emergency Response Plan, only to find in a true emergency that it has critical shortcomings. To help strengthen your plan, we've put together a list of 6 ways to tell if it's effective. Read more.
---
Personalized Medicine – How Big Data Can Help Mitigate the Risks
Better utilization of big data in medicine could generate up to $100 billion annually across the US healthcare system, according to the McKinsey Global Institute.
In Europe, the pharmaceutical industry is big business. The European Commission established the big data value public-private partnership in October 2014, and has earmarked €500 million. Investments are expected to reach €2.5 billion by 2020. In Germany alone, companies have generated €6 billion through big data solutions in the past year.
Personalized medicine promises improved health and better outcomes by utilizing genetic testing to identify predisposition to disease and effective treatment. Manufacturers are increasingly taking interest, conducting research into the power of big data in order to improve the potential of personalized medicines. According to BioPharm International, the number of personalized medicine products more than quadrupled between 2006 and 2012, and the U.S. market will double from $9.2 billion in 2013 to $18.2 billion in 2019. Read more.
---
3 Habits of Quality Management Jedis
Watching the new Star Wars movie, I couldn't help but notice similarities between Jedis and quality management professionals.
Both are known for strong mental acuity and focus. Both are committed to doing the right thing, even (or especially) in the face of adversity. And both are about ordinary people who can do extraordinary things simply because they have the strength to stick to their principles.
With that in mind, let's look at 3 critical habits of quality management Jedis to find out how the Jedi philosophy can improve quality performance. Read more.

Video: What to Look For When Selecting a Quality Management Software Solution