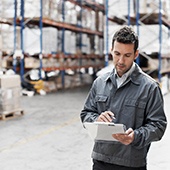 In 2015, the Code of Federal Regulations totaled nearly 180,000 pages of requirements. While not all of these will apply to any single manufacturer, regulatory compliance is still a major challenge for companies. In fact, many of them aren't even aware of certain regulatory risks until it's too late.
This fact is especially true when companies use manual or paper-based methods for quality or environmental management, which make it difficult to effectively track compliance activities.
With that in mind, today's post looks at a practical, risk-based approach manufacturers can use to identify and assess compliance gaps.
Read More