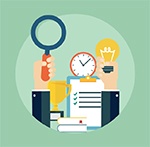 Disruptive technologies like ride-sharing, 3D printing and self-driving vehicles are driving rapid transformation across many industries. The Industrial Internet of Things (IIoT) is no exception, with manufacturing ripe for disruption due to the prevalence of manual processes.
Given that human error is responsible for 85% of quality problems, it's no surprise that roughly 1 in 4 companies who plan to implement IIoT are doing it to improve quality.
So how can companies expect to improve quality through the interconnectedness of devices? This posts looks at several key drivers of the transformation.
Read More