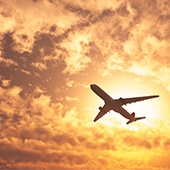 According to Forbes, the wearable tech market will be worth $34 billion by 2020, with experts predicting over 400 million wearable devices in use by that time.
When most of us think about wearable technology, things like Apple Watch, Fitbit and posture monitors usually come to mind. But they also have the potential to help companies improve in areas like safety and efficiency, and the aviation industry is no exception.
Today, we're exploring how wearables can have an impact on aviation safety, from streamlining maintenance with smart glasses to preventing worker injuries.
Read More