The EtQ Team Applies Lessons from Quality Management during Habitat for Humanity Build
The EtQ family recently participated in a Habitat for Humanity build. Habitat for Humanity is a great cause that helps an individual with building an affordable home at a cost much lower than comparable houses. The organization accepts volunteers from around the world who are interested in donating materials, money or their time. I have to say, going from no experience in construction to helping build a house all within one day is a pretty fulfilling feeling. We laughed, we cried— I'm kidding there was no crying (surprisingly)—but there definitely was plenty of laughter!
Looking back on the experience, I realized that the lessons we used to ensure a successful day were traits that you'll find in the best Quality Management Systems (QMS).
Training: With the help of our awesome instructor, Ryan, we learned a thing or two. We learned that without him….much wouldn't have been accomplished. We also learned that training is so important when your team is out in the field, not only to ensure that the job is being done effectively, but to ensure everyone's safety. Training is a necessity within any type of organization—a QMS's training management module makes it easier by automating the process, to ensure that all employees are knowledgeable on all of their responsibilities. When it came to our build, our instructor used effective training processes by creating training plans for all of the day's events and communicating these instructions and procedures effectively. In doing so, he gave us the tools we needed to meet our goal for the day.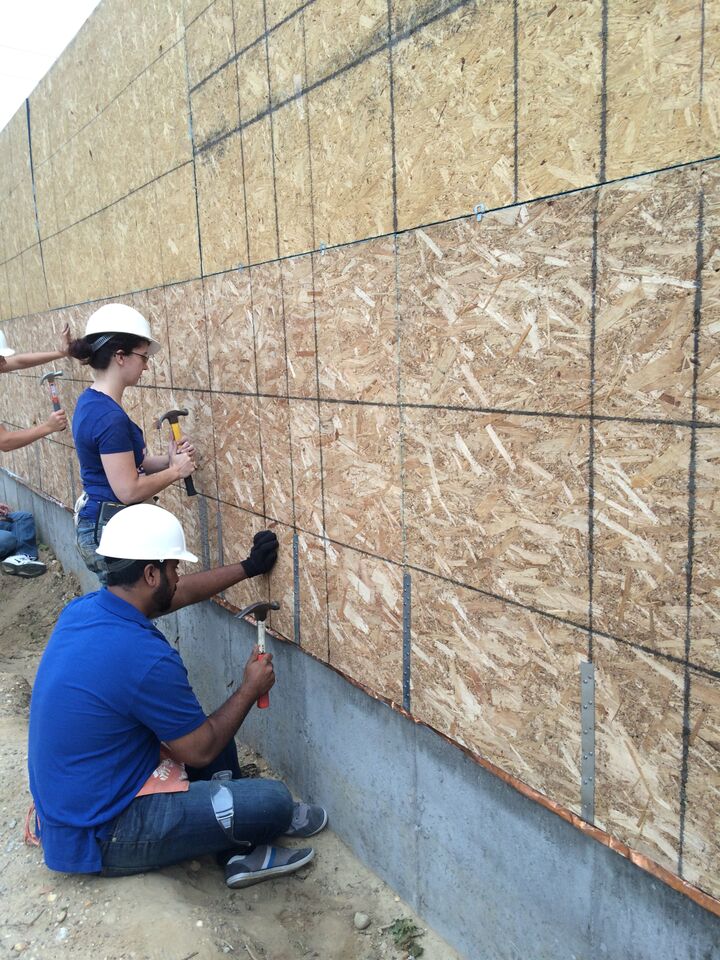 Flexibility: Employees often work together to reach a common goal—success. And to ensure a good working relationship, flexibility on both sides is essential. While EtQ lent a hand to our new Habitat for Humanity friends, we showed flexibility by adapting to the jobs that were asked of us. As most of us were new to the construction world, we found ourselves adjusting to a new way of work. We often talk about flexibility on this blog, and how it is an important trait in a QMS. A system that can be molded to reflect your organization plays a huge part in how comfortable the end user is with the system.
Workflow: Any good project begins with an idea, but also an effective workflow process to see that idea through. For us at Habitat, we learned from our mistakes. One of our first tasks was to hammer nails into the beams. Once we completed that we had to go back with our partner, remove the nails that didn't quite fit into the beam, and hammer them through again. This helped us to build a sturdy house from the outside in. Much like we followed a specific workflow through the day, the QMS provides organizations with a standard workflow to follow and allows you to adjust processes in order to meet business needs—just like we were able to adjust our processes to meet our goals.
Scalability: Habitat for Humanity has more than 1,400 affiliates across the United States, meaning there is often a location close to home. The organization also accepts other forms of help, which can be from the donation of money or materials. As long as Habitat for Humanity has employees and volunteers, they will continue to grow. Scalability is something we see in the QMS as well, and enables the system be expanded as much as necessary to accommodate additional users and locations.
Habitat for Humanity's vision is "a world where everyone has a decent place to live." They build quality houses for people of any background to have a safe shelter to call home. Following a guideline to building each house, Habitat for Humanity is able to build an effective and wholesome home, each and every time.
We enjoyed our build and would like to thank Habitat for Humanity for letting us share in this special day!

QMS Guidebook: Selecting, Implementing and Using QMS Software Solutions