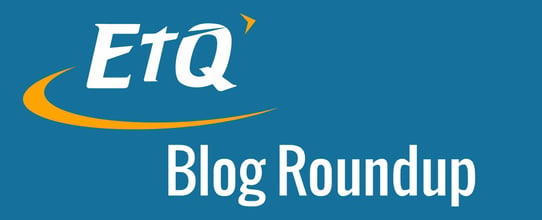 This month, our roundup consists of previous blog posts related to Environmental Health and Safety (EHS). So, if you have not gotten the chance to read up on how risk is applied to EHS, the benefits of the cloud on EHS or how to keep your incident rate down...read on!
Does your EHS Software System Speak Risk? How Risk is Applied to EHS
In previous articles, we've talked a lot about Risk Assessment and Risk Management. And with good reason - Risk is fast becoming the strongest and most comprehensive way to benchmark compliance, make more informed decisions, and enhance visibility into areas of improvement within the organization.
For Quality Management and Compliance, this is a common trend, but what about Environmental Health and Safety Management? Risk is equally as important in EHS processes, and can help drive better compliance to initiatives in tracking and improving safety within the organization. According to a recent report by Aberdeen Research, risk plays a large part in EHS Compliance. Read on here.
SaaS and Quality / EHS Management: It's an On Demand World
Now this SaaS delivery method has made its way into the Quality and Compliance space, and has been met with great interest. So, why Quality/Compliance as a service? Well, in many cases, the business user drives the process of Quality, EHS and Compliance - it is not yet a full-blown IT initiative in many places. Also, the ability to remain flexible and cost-conscious in today's manufacturing world makes this option attractive for those companies who are focused on the bottom line. Finally, SMB companies who want/need enterprise software, whether as a directive from larger companies they supply to or as a good practice to avoid any compliance headaches, need a solution that will get them the functionality they need, without incurring the IT overhead they don't have. Here are just a few interesting points about how SaaS models benefit a QMS or EHS. Continue.
Keep Your Incident Rate Down with EHS Management Software
For an EHS manager, relying on manual processes for workplace safety can prove time consuming and leave room for error. Employees are overdue for training. Near-misses go on unchecked. Written safety programs consist of one extraordinarily overstuffed binder, many of its documents dating back to the early 1990's. It's a fast track to a rising incident rate, something neither the company nor OSHA wants to see.
On the flipside of this, companies using EHS management software find keeping incident rates down much easier, often achieving significant gains from just a few key capabilities.
Which ones have the greatest impact on workplace safety? Let's take a look.
The Lorax Guide to EHS Management
The Lorax has always been my favorite Dr. Seuss story. If you've read it, you know that it's actually a pretty dark tale, so I decided to turn it on its head (with an EHS twist, of course). Read on.
Learn more about the benefits of an EHS system by downloading our Insider's Guide to Selecting EHS software.
An Insider's Guide to Selecting Environmental Health and Safety Management Software