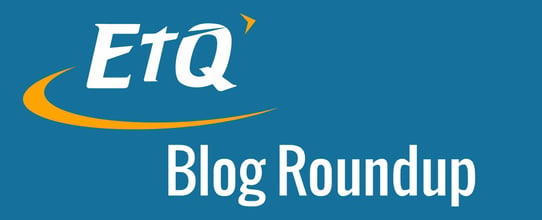 In this month's roundup, we bring you some of our top posts on Quality Management. Some topics we look back on this week include risk management's impact on the Quality Management System (QMS), why the EQMS is necessary to ensure quality success and how companies today are defining quality. Missed any of these posts the first time around? Read on to catch up.
Why the EQMS is Critical for Quality Success [Infographic]
According to results from the LNS Research's EQMS Selection Guide, 78 percent of companies report operating in a state of quality management disconnect. View the infographic below to see some highlights from the study. See more.
---
The Q Word: How Does Your Company Define Quality Management?
Let's talk about the "Q word". I'm going to echo a sentiment you've no doubt heard before—quality should be inherent in everything. It's often the reason some products are successful while others fail. Unfortunately, if you haven't taken the steps toward ensuring product quality from beginning to end, chances are you may be dealing with more than a handful of post-market issues at some point or another. Quality Management and Quality Management Systems are in place for just that. Read more.
---
The Risk and Compliance Paradigm: Risk Management's Impact on QMS
We continue to write about and develop solutions centered around Risk Management Software, and I think for many, Risk remains this enigmatic and elusive concept. The perception is that they are so concerned with operational issues, that conducting risk, while strategically significant, seems way off in the future for them. This is far from the reality—in fact many companies are already doing risk in some way or another, and not even knowing it. Learn more.
---
Global Quality Management Workflow: Being Both Common and Unique
Life is full of contradictions. In order to have peace, we prepare for war; we drive an extra 5 miles to save .02/gallon on gas; birds of a feather flock together, yet opposites attract; jumbo shrimp – things tend to contradict each other. You would think that this would also apply to technology, but at least in terms of Quality Management Software Solutions, you'd be mistaken. Read more.
Read more about the benefits of automated QMS solutions by downloading our guidebook below.
Have you subscribed to the EtQ blog yet? Don't miss out on weekly news, updates and fun takes on enterprise software!

QMS Guidebook: Selecting, Implementing and Using QMS Software Solutions