Quick Guide to the Benefits of Automated Quality Management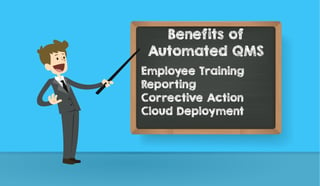 When looking for a software system, many companies want something that is truly flexible to reflect their unique business. Flexibility will ensure that you can organize all aspects of your software including workflows, forms, fields, reports and business rules all the way down to the look and feel of the system. Paying careful attention to the flexibility of the system is critical in deciding whether or not it is the right fit for you, your employees and your processes.
When it comes to choosing a Quality Management System (QMS) for your organization, there is much to consider. Each QMS is different from the next, so it is important to choose the system that will offer the most value. The best way to guarantee flexibility in a QMS lies in its ability to mold and shape itself to your liking. If you are able to configure keywords, logins and pages to mimic your normal routine it will be much simpler for the end user and will be a boost of confidence for those using the system.
User adaptability plays a huge part in contributing to the overall success of an organization. In fact, the more comfortable users are with their system, the more they will use it.
Below are some benefits you can expect to receive in a QMS:
Employee Training:

Employees are the heart of any organization. Therefore, to ensure quality, employees must be properly trained on their duties and what is expected of them. Once they are properly trained and knowledgeable on their daily routines, the next stage of the game is the completion of deadlines. With

Employee Training, you can set and track all training events within the organization automatically with configurable pass/fail scores. Every organization has ever-changing policies and procedures. Therefore, a QMS can be an essential factor in ensuring that employees are always highly trained and capable of completing their tasks on time and with fewer errors.
Reporting:

Not being organized can be a huge factor in the postponement of approaching deadlines. Most organizations receive a large amount of information daily, which can be difficult to make sense of manually. With an automated system, the data is at your fingertips, giving you the ability to

report on any field within the system, create different chart types, from bar to pie, radar and more. This allows users to see the data as a whole and make better sense of it quickly and more efficiently. This way, when a procedure must be completed by a specified deadline, it is easier to access the data and quickly create a report. This means that you won't waste time looking for your data—it's all in one central location where you can type in a keyword and instantly retrieve it.
Corrective Action Linked to Risk Management:

With the ability to organize all data and set real-time alerts for events, it becomes easier to detect threats that can pose a risk to your organization. Using a QMS, administrators can delegate assignments to the appropriate employee and guarantee completion by their due date. If information, such as a complaint, is found that threatens an organization, a

corrective action

will be initiated through an automated notification to the necessary employees who are then able to take care of it and route it further. Corrective action linked to risk assessment allows for the ability to filter critical events from the noncritical to ensure that the major events are taken care of first.
Cloud Deployment:

Another benefit of automated solutions is the option to deploy the QMS in the

cloud. The cloud is a cost effective alternative because it provides you with all the benefits of advanced technology with none of costs associated with maintaining it. For smaller organizations, this means the cloud can help them get into a QMS with little upfront costs.
Quality and compliance management software is becoming necessary for all businesses today. Since time is of the essence in an ever-increasing market pace, companies should never feel defeated by a pressing assignment and its due date. Companies need solutions that will allow them to manage and track the quality and compliance of their processes more effectively. Using the QMS to automate processes will result in a standard and consistent process to ensure that all processes are effective and intuitive, so users can focus on the success of their business.