How to Reduce Safety Incidents in the EHS Industry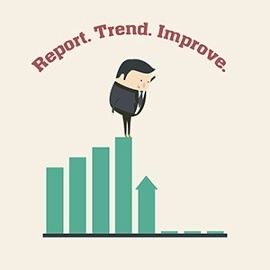 To maintain a high level of safety within the Environmental Health and Safety (EHS) industry, organizations must have the ability to proactively address all incidents that occur. This is a necessity as reducing job-related incidents will help promote a safer workforce, while enabling you to maintain compliance with regulatory agencies. Managing these incidents with the help of automated solutions provides users with more control and visibility over safety processes.
EHS management software makes it easier to:
Capture and analyze data while managing risks
Find trends in incidents to improve safety across the organization
Make needed changes to increase safety in all areas to ensure continuous improvement
The EHS System's Incident module helps you manage the process of reducing job-related incidents while effectively reducing chance of error, and provides an automated method of handling any adverse events that enter the system.
An effective process allows you to report, trend and improve—it will enable you to report on all incidents so you can pinpoint trends in incidents across your organization and make changes to ensure continuous improvement. To do so effectively, all incidents must be recorded and investigated and actions must be taken to prevent or reduce the chance of the incident recurring. An EHS system's Incidents module lets you set up records of all incidents and collect the information needed to conduct investigations into those incidents.
Incidents are often the result of simple failures or errors and sometimes the cause may be obvious and able to be addressed without the need for further investigation. Other times, an incident is critical, or multiple occurrences of similar incidents occur, which indicates a systemic issue. The EHS System's Incidents module lets you create records of all incidents that occur within your organization, collect the required information, conduct external reports, and initiate investigations into all incidents.
The automated EHS Management System links the Incidents module to other functionality to enable you to:
Identify Your Risks: Risk Management allows an organization to manage and track the incidents that have taken place and provides visibility into this data to everyone across the enterprise, regardless of where they are located. This is helpful if there is more than one location because then all employees are kept up to date on all adverse events that have occurred throughout the organization. Risk Management helps to make well-informed decisions and take necessary action against all incidents, while keeping track of these adverse events through integration with Incident Management.
Take Corrective Action (If Needed): Corrective Action is taken to another level when linked closely to Risk Management. This enables all events to be filtered properly and by criticality—rather than the order in which they entered the system. Noticing and reporting on the difference between non-detrimental events and detrimental events allows users to put a stop to incidents more quickly and efficiently without having to deal with the clutter, allowing them to easily see where any systemic issues are.
Report on the Data: An organization must have the ability to report on their data and use that information to promote continual improvement throughout its enterprise. These reports provide insight into the tracking and trending of all incidents within your organization, allowing you to pinpoint the exact cause of these incidents, apply corrective actions if needed and ultimately reduce the risk associated with recurrence. These reports call pull data into regulatory forms making the process of reporting incidents much easier on you.
These capabilities will enable you to manage incidents across your organization and effectively report, trend and improve. The result is a solution that will not only reduce the number of incidents that occur within your organization, but will also prevent them from recurring.
Ultimately, to maintain a high level of safety within your organization, you must proactively address all incidents that occur—automated EHS solutions give you this ability.