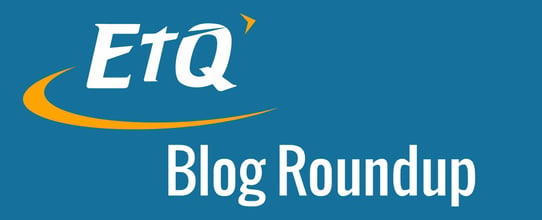 This month's blog roundup will look back on some of our posts related to the Life Science industry. Some topics we compiled this week include how to tell if your company is—or isn't—leveraging the full power of Lean, four advantages of integrating eMDR with your Compliance Management System, cybersecurity in the medical device industry and more. Read on to catch up.
Cybersecurity in Medical Devices: 3 Key Strategies to Inspire Consumer Confidence
When prominent "white hat" hacker Barnaby Jack demonstrated how easily he could wirelessly hack into devices like insulin pumps and pacemakers, it made people sit up and take notice.
As of yet, there have been no actual reports of cyberattacks on medical devices. But that doesn't mean scrutiny around the issue isn't growing. It's true for both the FDA, which recently released new guidance for medical device manufacturers, as well as for providers and hospitals, many of which have instituted new procurement measures (like the MDS2 form) aimed at weeding out vulnerable devices.
With medical device cybersecurity receiving so much attention these days, manufacturers must work harder than ever to reduce the likelihood of device defects. And while not all manufacturers are equally committed to cybersecurity, it's obvious the future market leaders will be those who take a proactive stance on the issue.
What are medical device manufacturers doing to reduce vulnerability in this crucial area? This post looks at 3 critical areas to focus on to protect device integrity and inspire confidence in your company's products.
---
Lean Pharma: Is Your Company Missing the Big Picture?
Lean Manufacturing, Six Sigma, Lean Sigma—all of these practices have the potential to create significant cost savings, increased efficiency and better performance overall. The problem is, many companies miss the big picture by focusing exclusively on elimination of waste, instead of examining how wasteful practices impact the bottom line.
So how can you tell if your company isn't fully leveraging the power of Lean, and how you can tap into its full scope for better results? This post will talk about some of the areas companies commonly overlook, with tips on how to strengthen Lean practices in your organization. Read more.
---
4 Advantages of Integrating eMDR into your Compliance Management System
As of August 14, 2015, medical device manufacturers will be required to submit all medical device reports via the Food and Drug Administration (FDA) electronic gateway. It's a critical tool for helping the agency and manufacturers more quickly respond to adverse events, with implications for shortening product innovation cycles and creating better products for the consumer.
Manufacturers still relying on manual report submission are now faced with the challenge of either building a custom system around eMDR, or buying an integrated Quality Management System (QMS) that includes eMDR functionality. This post looks at 4 advantages of choosing an integrated QMS over a custom eMDR solution. Read more.
---
Why Integration is Key to Reporting in the Life Sciences Industry
Whether we're talking about pharmaceuticals or medical devices, one thing is true in life sciences industries: companies live and die by data. The controlling factor is, are they reporting on it effectively, or are they getting buried by it?
With that in mind, this post takes a closer look at the key role an integrated system plays in more effective reporting and results. Read more.
Download the guidebook below for some tips on selecting and implementing compliance management solutions in the Life Science industry.
Have you subscribed to the EtQ blog yet? Don't miss out on insights, updates and fun takes on enterprise software!

Guidebook: Selecting, Implementing and Using FDA Compliance Software Solutions