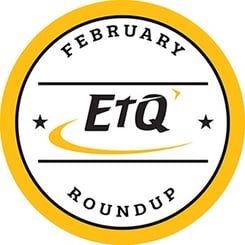 Miss anything on the blog this month? We've compiled posts from the month of February so you can catch up here. Learn how to get the most out of your compliance management system, 3 essential qualities of effective contract manufacturing relationships and more.
5 Signs You're Not Getting the Most Out of Your Compliance Management System (And What to Do About It)
If you've implemented an enterprise compliance management system within your organization, chances are the process involved a lot of time and resources.
So, to ensure that you're leveraging its full capabilities, we've put together a list of 5 signs you may not be using your compliance management system to its full potential (plus what you can do to fix the problem). Read the full post, here.
6 Signs You Need a Food Safety Management System
Listeria. Mislabeled packaging. Foreign supplier issues. Dozens of risks threaten food companies today, especially as the global supply chain grows more complex.
With recent regulatory advances like the Food Safety Modernization Act (FSMA), many companies are making significant progress in addressing food safety protections. And yet, many don't recognize the need to implement formal Food Safety Management Systems (FSMS) until it's too late. Read the full post, here.
Why a Safety Management System is Key to Reducing Risk for Global Companies
Despite strong growth, reducing risk is still a huge issue in the aviation industry. It's why more and more companies in aviation are adopting automated Safety Management Systems (SMS). But these systems aren't just a slick technological platform for companies with money to burn—they're actually key to reducing risk across the organization. Let's look at the top reasons why. Read the full post, here.
Shining Safety Records and the Danger of Complacency
Time and time again, we've seen companies touting shining safety records right before a major accident. It raises the question of whether low incident rates actually predict future safety, or whether they might actually create a sense of complacency. To dig deeper, let's look at some shortcomings of traditional safety reporting processes, and what companies can do to avoid the complacency trap. Read the full post, here.
Loving Your Suppliers: 3 Essential Qualities of Effective Contract Manufacturing Relationships
When it comes to committed relationships, it typically makes more sense to fix what you've got than to look for a new mate at the first sign of trouble. The same goes for contract manufacturing relationships, where companies don't have time to be constantly dumping suppliers only to have to qualify and onboard new ones. Read the full post, here.
3 Considerations When Moving Supplier Quality Management to the Cloud
While many in the quality management world are discovering how cloud-based solutions can help with Supplier Quality Management, there are a few things you need to consider before jumping in. Read the full post, here.
4 Pitfalls of Contract Manufacturing (and How to Avoid Them)
Contract manufacturing is on the rise, with companies from Apple to Xerox outsourcing production of their branded products. The approach is associated with several benefits like reducing overall costs and allowing companies to concentrate on core strengths like product design and marketing.
But what are the downsides that outsourcing companies need to be aware of? This post takes a look at some key issues companies should consider, plus what they can do to mitigate risk in those areas. Read the full post, here.
Latest Food Industry News + 6 Tips for Choosing an FSMS Vendor
This week we resume our industry roundups. Today's post is a food and beverage roundup that includes articles on advances in global food safety and how a Food Safety Management System (FSMS) can help manage processes and eliminate risks. Check out how automated software can help. Read the full post, here.
Food Litigation: Where Does FSMA Fit In? [Podcast]
I recently had the pleasure of attending the inaugural Food Litigation ExecuSummit where I met with a group of people I hadn't had much interaction with in the past—food law/litigation and food liability insurance professionals. Yes, I've worked with my in-house legal group during my various Food Safety and Quality Assurance (FSQA) positions to ensure that documents going out to external sources were properly worded and conveyed an appropriate message. And I've worked with insurance partners when dealing with employee and customer health and safety incidents. But never had I been in a room with dozens of legal professionals solely focused on learning more about food safety and how to deal with the changing industry trends and regulations. It was an educational experience for me and I hope that the group was able to learn a bit more about the industry from me as I shared some amusing (and sometimes alarming) stories from my FSQA experiences. Read the full post, here or check out the podcast.
5 Medevac Safety Lessons for the Aviation Industry
How can companies provide this vital service while keeping patients and staff safe? Let's look at some key lessons the helicopter emergency medical services (HEMS) industry, and the aviation industry as a whole, can take away from the problem. Read the full post, here.

Video: What to Look For When Selecting a Quality Management Software Solution