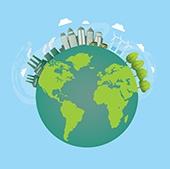 Hurricane Harvey has been wreaking havoc on Texas and the surrounding area for days now. By now I'm sure your social media feeds are filled with pictures of the effects, as well as links to resources and how you can help.
For some of you who have experienced a natural disaster, you can imagine all too well what these people are going through. But for those who haven't, it may be hard to imagine. Some might even find themselves asking: couldn't they have prepared better for this?
Unfortunately, the answer is no. No matter how much you prepare, sometimes events—like hurricanes—happen that are completely outside of your control and carry consequences beyond the scope of your organization.
In those cases, focus must immediately shift to disaster response efforts. It's here that a little extra planning and thinking ahead can help you recover faster.
Here's how.
Risk Management
Natural disasters can't be prevented. But you can still use risk tools to create disaster response plans.
The bowtie model helps you visualize the impacts of events that are unlikely but potentially disastrous—often called loss of control incidents.
The right side of the bowtie matrix is dedicated to recovery controls, which outlines how you would handle the effects of the event if it occurred. This includes how you would contain the damage, how to immediately respond to the disaster and a plan for relief or rebuilding.
Supply Chain Management
Organizations often neglect the supply chain when considering risk. However, doing so can be detrimental, especially when a natural disaster strikes not you, but a member of your supply chain. Building a supply chain plan that focuses on potential natural disasters or weather events will help you make better decisions and leave you prepared for if that day comes.
First, you need to identify all your suppliers and stakeholders, and prioritize them by importance. Looking at the area in which they operate, determine the potential severity and frequency of potential events. Then, assess those risks to see what adjustments can be made to your operations. Finally, create detailed contingency plans that allow for the least possible interruptions and quickest recovery in case of disaster.
For ways you can assist those affected by Hurricane Harvey, click here.