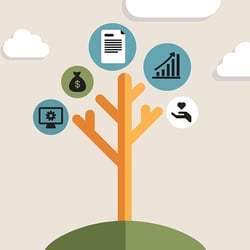 Years ago, sustainability wasn't even on the radar for most companies, but today, 93% of the world's largest 250 companies produce annual corporate sustainability reports.
What's driving the growth behind sustainability reporting? It's not just some warm and fuzzy that allows the marketing department to slap a green label on the company website or products. After all, collecting data on Sustainability is a complex task, one that requires significant involvement from multiple operational areas (not to mention the time and effort that goes into producing the report itself).
As it turns out, many leading companies report that collecting and reporting on sustainability data delivers serious business benefits. Here's a look at some of the biggest benefits that consistently make the list.
1. Increased Profits
In 2013, the MIT Sloan Management Review published a study that surveyed 2,600 executives and managers to paint a global picture of sustainability reporting trends.
The most impressive statistic from that study? More than one-third of companies surveyed (37%) reported a net profit from their sustainability efforts.
This may sound surprising if you've been taught that environmental responsibility is necessarily a costly venture. But it really shouldn't be a surprise, not when you take a closer look at how leading companies actually practice sustainability.
For one thing, sustainability actually encompasses many areas of the business, including operations, supply chain, product development and finance. Just as important, companies look at sustainability as more than just minimizing environmental impact (although that's obviously a huge part of it). True sustainability also means financial sustainability for the company.
This idea is gaining recognition, with more and more companies using integrated reporting of financial and sustainability data to demonstrate long-term profitability, social responsibility and environmental stewardship. Adding to the effectiveness of this strategy is that many EHS management systems allow you to integrate EHS processes with other business areas, creating a Centralized Reporting framework that makes it easy to pull and push date from various business systems.
2. Better Performance
Sustainability reporting offers significant opportunities for improved business performance. Sure, it may be easy to ignore things like energy use, water use, and increasing volumes of waste if you don't report on these metrics. But once you open your eyes to the data, it's hard not to focus on ways to do things better.
The fact that EHS management systems and quality management systems converge on several key business objectives is something organizations can use to achieve significant gains. And not just in terms of sustainability performance, but across the business as a whole.
In fact, almost half of the companies surveyed in the MIT study actually changed their business models because of sustainability opportunities. The report identified these companies as "Sustainability-Driven Innovators" that focus not on cost issues, but rather on how sustainability efforts cut costs, increase market share and create a competitive advantage for the company.
3. Creating Brand Value
Sustainability reporting creates brand value in a number of ways. With such a large proportion of the big companies now reporting, it's clear you need to get in the game if you want to be a true leader. Customers and shareholders are increasingly pushing for sustainability data, and the reports are critical for demonstrating the value and long-term vision of your organization to these groups and other stakeholders.
Sustainability reporting also protects your brand reputation. When you actively track sustainability and social responsibility efforts, for example by certifying your supply chain is free of conflict minerals, you're less likely to be involved in public scandals arising from negative impacts on the environment and local communities.
More and more, the conversation is shifting away from whether or not companies should report, instead focusing on improving the quality of reporting. Third-party auditing of the reports is a growing trend, and companies will perform much better if they use an EHS management system to create a comprehensive picture of the organization's sustainability objectives.

Leveraging Sustainability Initiatives to
Benefit Your Community and Increase Compliance