EtQ Announces its First Culture Ambassador Award Winners
At EtQ, we pride ourselves on bringing people, processes and technology together to create a unique framework for our customers to improve the way they ensure quality and compliance.
EtQ's solutions ensure quality, safety and operational excellence. This cannot happen without the hard work and dedication from our team.
The purpose of the EtQ Culture Ambassador Award is to motivate, recognize, and reward exemplary performance that supports the overall organizational goals and culture of EtQ.
Stephen Schober and Zaid Malhis both display EtQ's Culture Code in their daily routine, which supports our overall organizational goals as well as the culture of EtQ.
EtQ's Culture Code reflects:
Customer Delight
Flexibility
Caring
Innovation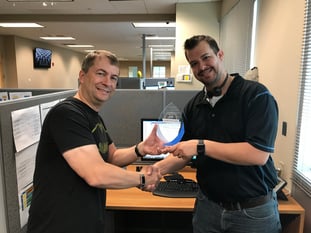 When we asked Stephen how he felt about having won the Culture Ambassador Award he said that it felt really cool to be recognized for upholding company values. As an employee, Stephen says that he tries to do his best and he recognizes that our customers deserve great technical support and that we are here to make their jobs simpler.
When we asked him what he likes best about EtQ he said, "I love the people and the job itself is very interesting and challenging. It changes day to day. I also love how organized the company is."
Stephen said that one of his favorite work moments was when he went on vacation and told his fellow co-worker to watch his chair because it was a really nice chair and he didn't want anyone to take it.
"When I came back I found my chair was literally chained to my desk. (The EtQ family always has your back!). That was one of the top funniest moments. We also used to have a running game of a kind of desk shuffle where people kept moving desks, but now we have a seating chart."
When we spoke with Zaid and congratulated him on winning the Culture Ambassador Award he said, "It's great to know that
your efforts here are appreciated and being noticed." Zaid says that he tries to do his best with every task that he's given and it's great to work for a company that has very high-profile customers within various industries.
"Software development is a challenging yet exciting career," said Zaid. "It lets you try new things, learn new things and build new things. You learn something new every day."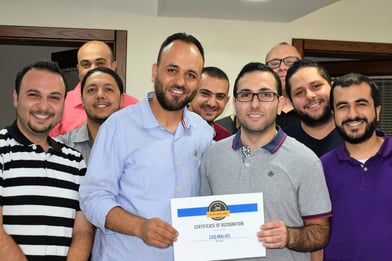 EtQ is built on innovative practices. For 25 years, EtQ has remained the leading Quality, EHS, Operational Risk and Compliance management software provider for identifying, mitigating and preventing high-risk events through integration, automation and collaboration.
At the core of EtQ's framework is a compliance management platform that enables organizations to implement best in class compliance processes to meet their existing processes, create new compliance processes all within a systematic and controlled manner.
We believe a company is only as strong as their employees and that is why we choose to work with the best of the best.
Our EtQ family continues to grow and we look forward to new members joining our team.
Visit our careers page to learn about the positions we have available.