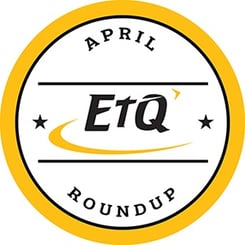 This week's blog roundup focuses on two industries, Life Sciences and Food and Beverage. This roundup offers readers the chance to truly understand tools such as the Risk Matrix and discusses mergers and acquisitions in the Life Sciences industry and more. It covers ways to strengthen relationships with contract manufacturers and big data in the food industry. We close with an infographic on how to pay more attention to food waste in your supply chain.
Creating a Risk Matrix: 3 Examples
Two things are true when it comes to making important decisions that impact your company. One, you need a way to quantify risk to make the best choice, and two, you need to be able to explain that choice.
A risk matrix helps you do both, calculating risk across various outcomes to give you clear guidelines on whether risk is acceptable or unacceptable. Let's take a look at the process. Read more.
---
Merger Mania in the Life Sciences – 8 Key Risks of M&A
Mergers and acquisitions (M&A) activity spiked ever higher during 2015 and looks set to continue climbing. Data from the Thomson Reuters Deals Review shows there were 468 global life sciences mergers and acquisitions last year – 11 percent up on 2014 and 90 percent higher than the trough experienced in 2012 in the wake of the global financial crisis. There is good reason to expect deal-making to continue at a frenetic pace. A recent study from PwC points out that companies are continuing to consolidate as they seek to increase market share – and also that many businesses are now choosing to focus on their core competencies, which is leading to more divestures. It also helps that many companies have cash on their balance sheets, following the period after the crisis when shareholders were anxious for businesses to show caution.
However, while mergers and acquisitions offer attractive opportunities to life science companies, planning, executing and delivering on transactions isn't always straightforward. Businesses that don't plan for the risks and dangers of life sciences mergers and acquisitions, building in risk management at the due diligence stage, may find that deals don't add the value hoped for.
It's crucial to pay attention to these 8 key risk areas: Read more.
---
3 Tech Tips to Strengthen Your Contract Manufacturing Relationships
If your company works with contract manufacturers, there's huge value to improving the strength of those relationships. That's because setting up new contract manufacturing relationships takes a considerable investment of time and resources, also introducing risk to your organization.
Instead, working together toward common quality metrics results in improvements that deliver better products, increased profits and better customer satisfaction.
How do you get there? Technology is the key. Here are 3 tips to help you leverage your technology for more effective collaborations. Read more.
---
Ingredients for FSMA Success + How Can We Use Big Data in the Supply Chain?
This week's roundup is based on the most recent articles in the Food and Beverage industry. FSMA compliance is a huge topic today. That said, we have pulled an article from FDAVoice discussing two ingredients for FSMA success, and Food Safety Tech discussing how food companies need help in better preparing for FSMA. We conclude with an EtQ blog post discussing big data in the food supply chain from expert Traci Slowinski. Read more.
---
Technology's Role in Food Safety: The Impact of Big Data, Social Media and More
When we think about technology in the food and beverage industry, we may think along the lines of enhancements to how we process the food, more innovative product ideas, and more unique methods for how to package and distribute food. But technology has also started to prove a worthy approach to how we deal with food safety. There is a reason why the profession we work in is called food science. It's because science goes into every step of the supply chain process. From how a farmer figures out the best time of year to plant a vegetable, to how a manufacturer processes it, to how the retailer stores and sells it, to how a consumer prepares it—science is the basis for not only making a high quality product, but also a wholesome, safe one. Technology is one of the many tools that scientists use to expand their knowledge and support advances within our world.
Let's take a look at some current and emerging technologies that are helping to change how the food and beverage industry is managing food safety. Read more.
---
How Avoidable is the Food Waste in Your Food Supply Chain? [Infographic]
Food waste across the EU is predicted to rise to 126m tonnes annually by 2020 unless we take action. In the UK, avoidable food waste is responsible for greenhouse gas emissions of 20 million tonnes CO2 equivalent per year.
A staggering 30% of the global food supply – or 1.3bn tonnes – is reportedly wasted every year at a cost of $1 trillion, according to the Food and Agriculture Organization.
In terms of surplus food, 98% is disposed of in landfill or converted to compost rather than redistributed. Food waste is associated with carbon emissions from transportation and methane emissions from landfill.
Taking action is a societal as well as a commercial responsibility. Action can take many forms – from new legislation combating waste to industry responses to consumer pressure. Government initiatives in developed countries are helping shift attitudes at all stages of the supply chain. In the developing world, where food waste per capita plummets due to shortages, challenges remain in terms of improving production methods, access to new technologies and public awareness.
Ignoring food waste in your supply chain will cost your business in both monetary and reputational terms. So how do you identify it, and what can you do about it? Read more.
The Risk Guidebook: Building a Compliant Risk Management Program