The Fiscal Cliff's Impact on Food Safety Management and the FSMA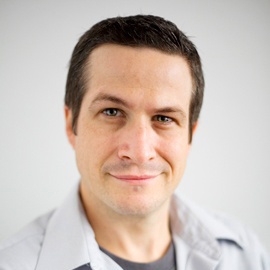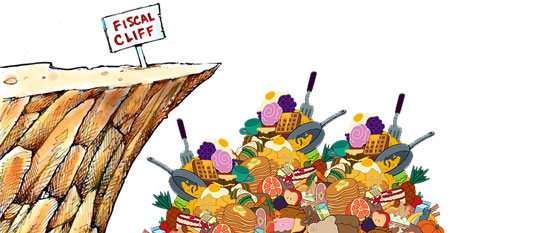 I've only been peripherally following the political world in the past few months. There was apparently an election I'm told, and after the election we have the Mayan apocalypse and our own apocalyptic cliff to fall off of. (I was without power for a few weeks, so all this is coming as new to me). In case you are like me, the fiscal cliff is a series of tax cuts that are set to expire at the end of the year. It also would mean that spending cuts would take effect, which would have an impact specifically on Food Safety in the United States.
Cliff Diving: Food Safety Inspection Cuts
One of the key areas that stands to lose in the fiscal cliff lies in food safety. If we indeed fall off this fiscal cliff, there will be an 8% cut in spending for plant and animal health inspections, equaling about $70 million in cut funding. The Food Safety and Inspection Service agency could stand to lose about a billion dollars from their budget. We are also looking at about $3 million in spending cuts on inspectors. This means less food inspectors in the field, and as a result, less inspections. We are looking at a food chain that is less safe in 2013 that it is now.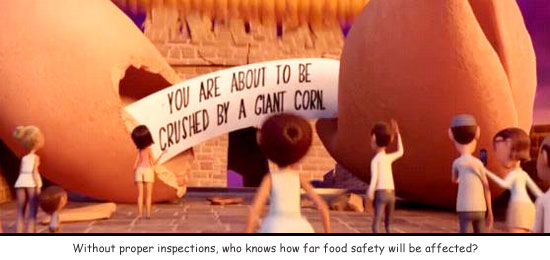 Food Safety Modernization Act: Still Alive?
The other question that comes into play is whether the ever-delayed Food Safety Modernization Act (FSMA) is going to continue its path to law. We all know the delays that the FSMA has encountered since its introduction and passing in 2010. Now that the election is over, the administration seems more committed to the law than ever before. However, this does not mean that we will see much movement in the coming year. The Office of Management and Budget has stated they plan to release the rules of the FSMA in early 2013, with a 60 day period of public comment. Once that is completed, the FDA will take about a year or so to incorporate any public's comment into the final rule. After that, other agencies will need to review these rules and approve them to actually make it into law.
Are you counting with me? A year for the FDA, and a year for other agencies - provided we don't have any issues (which we will), we're looking at 2015. More realistically, we're looking for 2016-2017 timeframe for the FSMA to become a law.
That's if we don't see cuts stemming from a fiscal cliff disaster. The Obama Administration seems committed, stating that, "...We are working as expeditiously as possible to implement the food safety legislation we fought so hard for. When it comes to rules with this degree of importance and complexity, it is critical that we get it right."
Law or No Law - Food Manufacturers are Acting Now
I've said this before, and I'll say it again - whatever the result of government legislation and laws to be enacted for Food Safety Management, organizations are taking the necessary steps today to build processes that foster safer and higher quality food management. The Global Food Safety Initiatives various scheme (BRC, SQF, IFS, etc.) are currently the gold standard for food safety in the industry today. Companies that are implementing these schemes are taking a proactive stance on food safety, and demonstrating a commitment to promoting safe quality foods in their operations.
Take a Look at Canada, Folks
Canada seems to be on the right track these days. Just last month the Canadian government passed their food safety bill into law, which is a sister bill to the FSMA. The new law, which comes in the aftermath of a massive E. coli outbreak at a local farm, has many similar elements to what the U.S. is trying to do with the FSMA. The "Safe Food for Canadians" Act entails:
Better traceability in the food system, making it easier to recall products if safety issues arise somewhere in the food chain.
New record-keeping requirements for regulated facilities and more powers for inspectors to compel the production of documents in usable formats.
Tougher penalties for those who violate established safety standards, increasing maximum fines from $250,000 to up to $5 million, or even higher at the court's discretion.
Registration for all importers, to add a greater degree of certainty to the food safety system.
More authority for the Canadian Food Inspection Agency (CFIA) to certify exporters, if required by other countries to facilitate trade.
There's obviously more to the bill, but the highlights emphasize a tighter control and enhanced visibility to an organization's Food Safety Management System, and their supply chain.
Take Aways
Here's what I'm gleaning from all this, as I wake from my Hurricane-induced information slumber:
Food Safety is under threat in the United States - spending and budget cuts are going to make a harder environment for promoting Food Safety
The FSMA is still alive, but there's a long road before we see any results on the dinner table
GFSI still remains the key compliance area holding Food Safety processes together
Canada has made some movement into promoting Food Safety at the Federal level
I sincerely hope that 2013 gives us a better view on Food Safety Management than it seems to be right now. But if not, it's up to the producers to promote their continued commitment to adhering to the compliance standards that help them to operate a safe environment and produce the safest possible products for the food and beverage industry.
Free White Paper: Food Safety, From Farm to Fork: A Best-Practice Approach to Implementing a Food Safety Management System
Food Safety, From Farm to Fork: A Best-Practice Approach to Implementing a Food Safety Management System
You will learn:
• Best practices needed to successfully implement and automate the FSMS
• How an FSMS can help automate each process in the HACCP plan
• How an automated FSMS can help stakeholders comply with the various food quality and food safety initiatives