5 Ways Operational Risk and Compliance Management Committees Rule ROI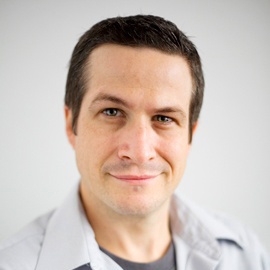 Sometimes we don't always have the full picture when we see things from our individual perspective. We tend to only process information that we can see in front of us, or that only pertains to us. There is so much information being thrown at us in any given day, that the ability to step back and look at our lives from a larger perspective seems difficult, if not impossible. However, sometimes a little perspective and larger vision is what is most important and can help us make better decisions. I am talking specifically with respect to business systems, such as Quality Management System, Environmental Health and Safety Systems, Supply-Chain Management, Customer Service Management and many others. We become so focused on our tactical needs for these systems, we end up implementing siloed systems to serve those tactical needs. This is good in the short term, but in the long-term it gets all mucky and collaboration suffers.
In order to avoid this systems implementation cornucopia, companies are taking a new approach to evaluating and buying business systems - the committee approach. This approach takes cross-functional members and assembles a team from each area to weigh in on their siloed needs, and select a solution that is designed to satisfy all those needs (or most, realistically). Think of it like your company's version of The Avengers: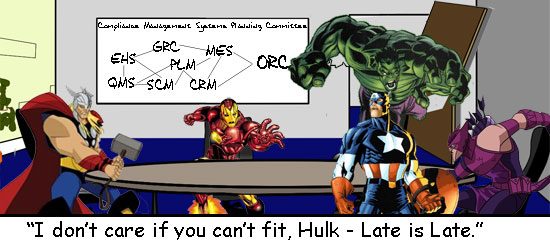 Don't go showing up to work in purple tights just yet. The key thing to realize is that there is a significant overlap between each operational area's unique requirements and the overall solution that might be implemented. As a result, evaluation committees are designed to look at these overlapping areas, and find ways to converge processes and applications into a cross-functional Enterprise Operational Risk and Compliance System. Here are five ways to kick off an evaluation by committee approach.
1. Select a Committee based on Operational Risk and Compliance: This term is widely considered the overreaching umbrella from which all compliance teams operate. It involves the processes and decisions associated with compliance and risk. This is where individual solutions such as Quality Management, EHS Management, Governance, Supply-Chain Management, and other all fall under. Each member of the committee should be representative of this larger category.
2. Create a Functional Requirements Document: Each member of the committee should put together their requirements for their solution prior to meeting. Then, with the committee in the room, go through these requirements, and identify areas where there is an overlap. This way, you can create a consolidated requirements document that satisfies all area needs.
3. Set Short-Term and Long-Term Goals: Not everything will be covered initially. This is why creating a time line for immediate needs versus long-term needs are critically important. What do you need today, and what will you need a year from now?
4. What is the Data Going to Look Like?: This is often overlooked, but critically important. Determining the reports the systems will generate will give you visibility on how to make better decisions, so plan ahead. Write down which reports you need, and what the data should tell you, for each area that you are working with.
5. Set a Definitive Time-line For Success: Studies show that Compliance Management Evaluation by Committee has a much higher percentage of Return on Investment over siloed implementations. This is because with this many stakeholders in the game, success is levied by checks and balances within the team. Each team member is invested, and the project has more top-level visibility than if hidden in a single department. Set up a time line of where you want to be by the go live date, and put in deliverables for each Quarter thereafter, to ensure you are maximizing the overall investment in the Compliance Management System.
Evaluation by Committee is not easy, and the one caveat is that there has to be a need for a solution across all these functional areas. However, Committees are not just at the enterprise level. This can be a part of just Quality Management, EHS Management or any of the business systems in the enterprise. Whether it's on a small scale or enterprise scale, having a team versus an individual evaluate and implement these systems is a great way to ensure your choice in Compliance and Risk Management systems is an investment in your future, versus an interim fix to a larger initiative.
Free White Paper
An Insider's Guide to Selecting a Quality Management Software System
You will learn
• Top software components
• Best practices when selecting a software vendor
• Pitfalls to avoid
• Business cases for each consideration