Making Sense of the Data: Reporting in the QMS and EHS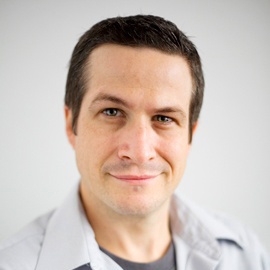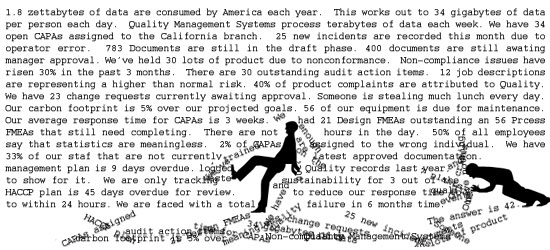 Information is everywhere. In fact, recent studies by the Global Information Industry Center state that Americans consume a whopping 1.8 zettabytes of information each year (that's a million million gigabytes), spend 1.3 trillion hours consuming information, and 10,845 trillion words read. This all works out to about 34 GB per person per day. Needless to say, we are consuming more information everyday.
Often, when people implement their Quality Management System, Compliance Management System, or Environmental Health and Safety System, they don't think about the data being collected; at least not at first. The goal of these systems is usually to fill a specific need, like process improvement, visibility, streamlining operations, and so forth. The ability to view the data becomes important when you actually have data in the system. Without a way to organize the data that's in your system, how can you make sense of it?
This is why I would argue that a reporting system within the QMS and EHS is equally important to the system itself. Here's why, and what a good reporting system needs.
1. Built-in functionality: Having a reporting tool built into the QMS or EHS will enable users to run immediate reports on their data. Too often, integrating with a third party tool requires an extra step in getting your data. While for advanced reporting this is not a bad option, if you are looking to run reports quickly and right from your system, having a built-in tool is a huge benefit.
2. Organize your data: In any given time, there is a massive amount of data in the system. Making sense of it is much like making sense of a messy room; you need to put things in their logical places to effectively move around in the room. QMS and EHS systems must have a logical way of organizing the data, so you can filter the data to drill down on specific criteria. "Views" are ways of filtering this data: View by Assigned, View by Risk Level, View by Open, View by Location, and so forth; views provide a critical component in seeing the data in pieces of the whole.
3. Exception reporting: Most often, QMS and EHS data is looking at events that occurred within the past month, quarter, year. But what if you can report on events as they happen? Exception reporting seeks to do this. It provides an alert system whereby you input criteria (ex. 3 Adverse Events at Location AB in one day), and then get automatic notifications when those criteria happen. This way, you are no longer waiting for the data to uncover these events upon your next report run; you are getting notified of them, as they happen. Very powerful stuff.
4. Templated charts and graphs: Most everyone using visual cues to make sense of the data, and most QMS and EHS use some form of graphical reporting. What is most important is the ability to run graphical reports quickly. More often than not, reports need to be run right before running into a management review meeting, and they need to be run quickly and real-time data must be pulled. Templates are a key function to get reports run quickly, with the most relevant and current data.
5. User-friendly reporting: Effective reporting tools shouldn't require you have a technical degree, or advanced SQL training to use them. The primary consumers of reports are decision-makers, who need reports to be easily accessed and run quickly. Having a reporting system that provides you with a user-friendly interface to build your reports is a key feature. And, no matter how robust your system is, it should always have the "Excel Export" option. Being able to pull data into Excel is important, as most business users are familiar with these tools and can port them offline for further analysis.
These are just a few examples of how reporting can influence your ability to impact the business. Reporting provides the following core benefits:
1. Visibility: By organizing and charting the data, you can now see the QMS or EHS system more clearly. It gives you the visibility you need to uncover trends in the data.
2. Decision-making: A clearer picture helps you make better decisions. Looking at a jumble of data is not going to provide you with the right environment for making decisions; you need reporting to give you the foundation and basis for decisions within the company.
3. Risk mitigation: Reporting also takes the "temperature" of your Quality or EHS system. You can see your risk areas, analyze and take actions to mitigate high-risk events.
4. Return on investment (ROI): ROI can come in many forms, and you can argue that any system that is better than your previous one will generate ROI. But reporting helps to demonstrate your efficiencies and time saved in the new system, and furthers the concept of ROI from your QMS or EHS.
So, while information is flying past us at 34GB per day, with core reporting functionality in our QMS or EHS, we can at least make sense out of our Quality and Safety data. Now all that's left is to make sense of the data from the rest of our daily lives (I'm not touching that one - you're on your own).
Free Product Paper
EtQ Enterprise Reporting
In any Quality or EHS Management System, the ability to view business intelligence and use it to make informed decisions is key to success. EtQ has developed several tools to help companies gather intelligence quickly and effectively, and provides the tools to aid in the decision-making process.

With EtQ Enterprise Reporting, all the information related to the Quality or EHS system is readily available and easy to report on.