Sneak Preview: Complaint Handling and the Risk-Based QMS - Seminar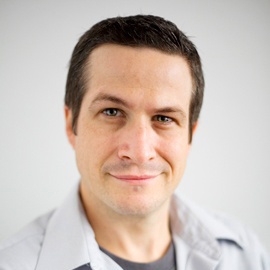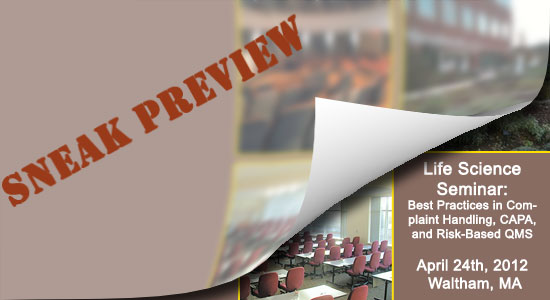 Next week (April 24, 2012 at 8:30am ET to be more specific) we will be hosting our 3rd Annual Life Science Seminar in lovely Waltham Woods in Waltham, MA (wicked lovely). This will be our third year doing this great event, and with each year, we hope to provide a venue to learn and share about the various topics in the Life Science community. This year we have speakers from EtQ, Kimberly-Clark Corporation, and Celgene Corporation.
This year, we're going into Complaint Handling and the holistic Quality Management System. Whether you're a Fortune 100 giant, or a small start-up with a great idea, if you have products out in the market, you will receive "post-market feedback" - or complaints. They come in all shapes and sizes, and all varying degrees of severity. If you are like most companies, you will get more than a few. Some companies have to devise new ways to organize, filter and rank these complaints, or adverse events in the broader sense, and handle them in a way that helps to foster greater compliance.
There are a few things to consider when automating the Complaint Handling process:
1. Integration with other business systems: One of the key areas for any automated Quality Management Solution is integration. In order to gain complete visibility into the entire post-market process, integrating your Complaint Handling with 3rd party systems can give you the best way to ensure that data is accurate and information is being communicated from all parts of the business. The seminar next week will feature a case study on just that - integrating Complaints with Sales automation tools.
2. Use Risk to Filter Complaints: We've talked about Risk in many facets on this blog, and this is something that is not new to our readers. One of the key areas where risk can be implemented in a Quality Management System is through the filtering of adverse events, namely complaints, by their risk. Using Risk tools, you can effectively sort and filter events by their overall risk ranking (severity, frequency, etc), and prioritize the events that pose the greatest risk, versus those that are latest. In the Seminar we will go over this very thing.
The other aspect to this seminar will be on the Holistic Quality Management System. Quality is everyone's responsibility, and many leading organizations are taking this to heart. One session at the seminar will be on the concept of extending Quality Management to the entire enterprise. In a Life Science capacity, Quality is pervasive throughout the organization. There is a goal of "compliance right, the first time" in order to put products and services out into the market with the goal of being as compliant as possible with each product lifecycle. This will be a main focus topic of how automated Quality Management can provide a level of visibility that not only puts Quality Management at the forefront of everyone's agenda, but also provides the organization with a clear path to compliance.