Getting on the Quality Management Software Soapbox - QMS Rant, Part 1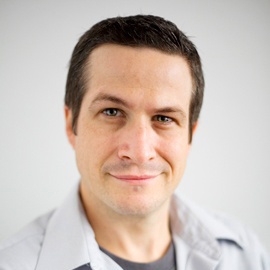 Warning: This is a bit of a rant. Not so much an "angry-about-the-state-of-the-world" rant, but more of a tangent on Quality Management software. You see, I tend to get carried away when I write about stuff - Quality, EHS, Life Sciences, Aviation, Coffee, Star Wars, Biking, Office furniture; it's all open-season when I get on the soapbox. This happened to be as part of an interview for a Life Sciences magazine, and I just couldn't stop. I covered everything, and I managed to write it down, so thought I would share - hopefully there's some good nuggets in here for you to learn.
Is The Quality Management Software market Evolving to be Easier, or more Complex?
As the world market evolves, product lifecycles are speeding up to accommodate market demand and keep up with competing products. As a result, Quality benchmarks need to evolve as well. Risk is fast becoming the benchmark for assessing quality throughout an organization. This is because organizations need a systematic and objective way of looking at incoming information and making decisions on how best to manage Quality. Risk Management provides this benchmark - it allows for a quantitative method to review the data and come up with decision criteria to help make better decisions leading to better Quality. In this day and age, companies cannot afford to lag on their Quality - product lifecycles move too fast to not move quickly. Risk has evolved over the years to be more quantitative in nature and is incorporated into traditional Quality models in order to keep up with the pace of the new markets. This evolution is seen in Adopting risk matrices incorporated into multiple facets of the quality dynamic; Complaints, Audits, Nonconformances, Corrective Action and similar functions all use Risk in some form or another. This is growing in interest to the point in which risk activities often govern the processes and at fully integrated in the traditional workflows.
Whereas this was once a discipline reserved for only the leading edge companies, it is not becoming mainstream. Most software solutions have some element of risk built in, and as more and more risk solutions are offered, more and more companies adopt the methodologies associated with Risk. This mainstream adoption is going on now, and by the end of 2012, it will be hard to find a company that doesn't have some sort of risk built into their system. The bottom line is that Risk Management is getting easier to access for all organizations; but it is still a complex dynamic that each company will need to determine which risk model fits their business needs. The trick is to find a solution that is flexible enough to provide the level of detail for the risk activities needed, but make it easy for each company to adapt and grow their operational risk management software program.
What you May Not Know, or Were Afraid to Ask:
The main obstacle to truly being risk-based is the shift in changing your understanding of Quality and Risk. It is sometimes difficult to understand what is "critical" in a business. In businesses today, Corrective Actions are overused. Many feel it's better to just initiate the Corrective Action and deal with the process than truly assess whether you even need a Corrective Action. Not every adverse events needs to be a Corrective Action; if everything was a Corrective Action, it dilutes the purpose of the process. Corrective Actions are designed to correct critical and/or systemic issues. Risk Assessment and Risk Management are designed to help discern which is critical and which is not critical. Non-critical events can be immediately corrected, and I think that many businesses do not see the value of correcting non-critical events in the source data in which they are found. Especially in regulated industries where the scrutiny is so high, we often want to err on the side of caution and do a full-blown investigation on a label smudge. While this is an important correction, it is not critical and wastes resources and time for a business. First and foremost, organizations need to realize where their critical events lie, and then focus on those first, then worry about the non-critical areas as they come. Risk Management provides this ability to filter out the critical events and make the right decisions on how to handle them.
Why Companies are Still Reluctant to Purchase a QMS Software System
Software is a key component in today's industries. Again, industries are moving faster and much like the automated assembly line, so too must the business processes that govern manufacturing be automated. So why are people so hesitant to implement software? Here are a few potential reasons:
The Fallacy of the Custom Solution: Most people remember the days of the custom-developed solution, where in order to get the software to work the way you want it to, you need a team of developers over the period of a year or more to code the system into your company's "mold". While the stigma remains, the software has evolved beyond this. Especially in business process automation (such as Quality), the custom solution is gone, giving way to the "configured" solution. Adaptations and changes to the system are all encased in settings and drag and drop interfaces, making the configuration of the system as easy as changing your Facebook settings. Now the business user, not a developer, is adapting the system to meet the business need; this is extremely powerful and time-saving on resources, but is also putting the software design in the hands of the people who actually use the tools. Very powerful, and organizations are slowly warming up to this concept.
The Fallacy that Software is too Expensive: Again, much like the advent of standardize parts in the automotive industry, having a configured system that has all the components developed out of the box has driven the price point down considerably. One solution can satisfy many different organization's needs, and so companies can now get into a decent enterprise software product for a fraction of the cost ten, even five years ago.
The Fallacy of the In-House Maintenance: Another issue comes up with many smaller businesses with a small IT footprint. They cannot manage yet another system, and IT will not administer the system for them. Thanks to the advent of cloud computing, we are seeing this paradigm slowly fade. Software as a Service (SaaS) is growing in exponential fashion, and it enables a small organization to get into the game with little to no administrative IT footprint. Much like we use Facebook, Pandora, and LinkedIn in our personal lives, so too are professional software solutions coming into the fray. Applications that are delivered in the cloud and are paid as a subscription are enabling smaller businesses to enjoy the benefits of Enterprise Quality Management solutions, without having to dedicate specific resources or significant cash flow to a single tool. Pay as you go – it's the way of the future.
Everyone resists change. Most often, the larger companies will be the ones to take the first step, and sometimes the innovators in the industry, regardless of size. Mainstream adoption often comes when it becomes easier to make the change from one system(or no system) to an automated software tool. With flexible, configurable solutions that can be deployed in-house or over the Web, change becomes easier, and more and more small to mid-sized organizations can enjoy the benefits of the solutions in the market today.
As if this wasn't enough - the interview doesn't end there...stay tuned for Part 2 of the QMS rant, where I go into the obvious and not-so-obvious benefits to QMS, ROI of a QMS implementation, and scalability. <end rant />
Free White Paper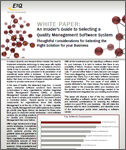 An Insider's Guide to Selecting a Quality Management Software System
You will learn
• Top software components
• Best practices when selecting a software vendor
• Pitfalls to avoid
• Business cases for each consideration