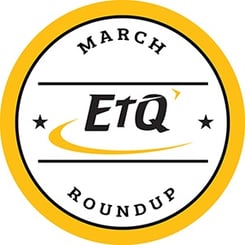 This week's roundup is a compilation of all March blog posts. Read on for topics regarding five ways the Quality Management System (QMS) reduces the cost of quality, big data in the life science industry, four tips for preventing ergonomic and repetitive use injuries in the workplace and much more.
5 Ways the Quality Management System Reduces the Cost of Quality
According to the American Society for Quality (ASQ), the cost of poor quality totals up to 15% of an organization's revenue. Scrapping defects, managing recalls, product redesign—all of these impact productivity and profits.
With the rise of quality certifications like ISO 9001, more companies are taking a systematic approach to reducing quality costs. The first step is implementing an automated Quality Management System (QMS), which drives cost savings across many areas. In this post, we'll take a look at 5 of those areas. You can find the entire post, here.
---
Big Data – How Big Players Like Sanofi and Bayer Are Leading the Way
Let's take a look at some real-life initiatives from the sector—and see which business problem each of them solved. You can find the entire post, here.
---
4 Tips for Preventing Ergonomic and Repetitive Use Injuries in the Workplace
Workplace safety discussions tend to center on high-impact events, processes and risks—things like moving machine parts, or preventing accidental chemical releases. People tend to forget about the low-hanging fruit, which includes ergonomic issues that cause chronic musculoskeletal disorders (MSDs) and are 100% preventable.
How can you reduce these types of injuries in the workplace? We'll go over some best practices and strategies, with added tips to help you get better results. You can find the entire post, here.
---
How to Become Sustainable + A Preview of BIOMEDevice Boston [Industry Roundup]
Our roundup this week consists of articles regarding the Life Science industry. We have articles with tips on becoming a sustainable brand, highlights of the upcoming BIOMEDevice seminar in Boston and how to leverage your Compliance System to ensure you're achieving your full potential. You can find the entire post, here.
---
Collaboration vs. Security: Can You Have Both?
Whether we're talking about new product innovation or large-scale process improvement, making meaningful progress and achieving synergy with your team requires the ability to effectively share information.
Unfortunately, sharing that information comes with its own risks. Data breaches, intellectual property theft and even internal vulnerabilities all threaten the security of sensitive business information.
So are collaboration and information security mutually exclusive? Of course not. But if you're in a highly regulated industry like medical devices or pharmaceuticals, you want to make sure all of your bases are covered when it comes to collaborating securely. Here are a few tech considerations to get you thinking in the right direction. You can find the entire post, here.
---
Mitigating the Risks of Demand-Driven Supply Chains in Food and Drink
Businesses need to focus on demand-driven supply chains like never before... and that could mean visualizing supplier management processes in an entirely new way.
Changes in consumer behavior dictate that businesses have to jump, and jump high, to meet demand in an increasingly complex landscape.
The combined forces of omni-channel retailing and greater access to technology have contributed to the emergence of the demand-driven supply chain, which places the consumer at its core and seeks to respond to buying trends and fluctuating demand in real time.
Accessing omni-channel retailing on the move on mobile devices as well as at home, the mobile consumer…You can find the entire post, here.
---
4 Ways to Accelerate New Drug Development
Bringing a new drug to market is astonishingly expensive, estimated by the Tufts Center for the Study of Drug Development at $2.6 billion roughly. And while drug discovery, clinical trials and post-market surveillance typically takes years, intense competition means the drive to bring drugs to market faster is stronger than ever.
What can companies do to speed up development cycles while keeping quality at the center of their focus? Let's look at 4 ways quality and compliance managers can play a role in accelerating new drug development to gain an edge over the competition. Read More.

Video: What to Look For When Selecting a Quality Management Software Solution