eMDR Final Rule Date Still Unknown, but Submissions are on the Rise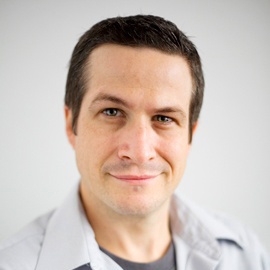 I have to admit, I was hoping to post a blog today announcing the final rule date for the Electronic Medical Device Reporting (eMDR). Sadly, after much calling, emailing and searching, I came up with, "We don't know - hopefully the end of 2011". This would sound encouraging, except I've heard that story before.
I've heard that 2010 would be the year of eMDR, then end of 2010, then beginning of 2011, then end of Summer 2011. I've not been able to get a clear answer exactly why this date keeps getting pushed, but I do know that the FDA will issue a one-year provisional period from the date the final rule is announced. The FDA's stance is that while the target date is still moving, that does not mean companies shouldn't begin their journey into electronic submission. And it is working - see the below graph illustrating the monthly submissions through the CDRH's Electronic Submissions Gateway: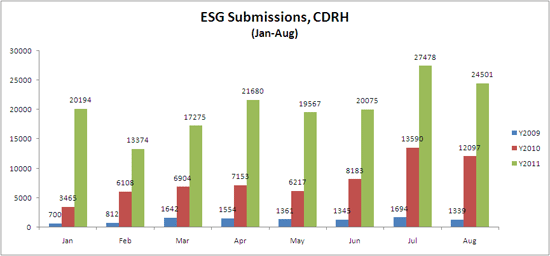 I used January-August as the timeframe, because as of this posting, there are no submission data for the remainder of 2011.
Here's another way of looking at the data. Since the time of the eMDR's birth, submissions have not only tripled or doubled - they've centupled (that's 100 times as many):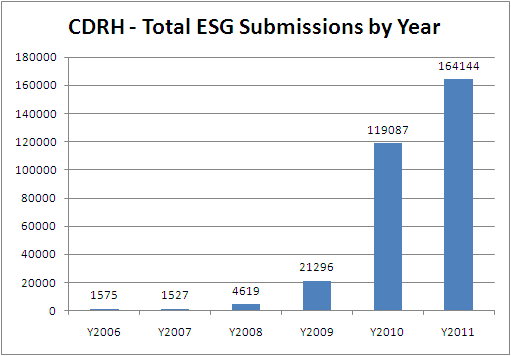 ...and we haven't even finished off the year.
So, it is becoming clear that, regardless of the target date, the eMDR is alive and kicking. However, the FDA has stated that this represents only about 100 firms. So, while these numbers are impressive, this is coming from a relatively small sample set.
So, what is available to you for eMDR?
Option 1: eSubmitter/Web Trader - For low-volume submissions, the FDA has the eSubmitter/Web Trader application. This is a simple attach-and-send method, that takes the MedWatch 3500A and puts it in a PDF and Zip file and uses the FDA ESG to upload single files. It basically allows you to fill out one field at a time, and submit a single file to the FDA.
Option 2: B2B eMDR (via HL7 ICSR) - For the High Volume submissions, the FDA is using the Health Level 7 (HL7) Individual Case Safety Report (ICSR). Basically, this allows the MedWatch forms to be submitted in batch via xml. Basically, these are the eMDRs that are "hooked" into your existing Complaint Handling system, and will automatically submit through the ESG. Most all Quality Management Systems now have a dedicated eMDR integration, and it part of their Medical Device Solution offering. For larger firms, this is the best option for your business.
Back to my earlier point. There is no firm date set. Only 100 Firms are currently using the eMDR ESG. And there have been an increase in submissions 100 fold. So why start on the eMDR now, as opposed to when the final rule is published?
1. Early Adopters will get more personal attention: This will be mandatory (someday soon), and once it is, there will be a massive wave of adopters in that 1 year provisional period. This will no doubt put a strain on the FDA's ability to provide assistance to you during setup. Get in now, and you will be one of 100-something firms, and will get more attention and help getting set up and running.
2. The ESG will save you time and provide better visibility: Currently, the FDA operates on a paper-based method of reporting. In today's fast-paced world, paper is unreliable and can get lost, misplaced, etc. It is better to have an electronic link to the FDA, as it will fall in line with your existing electronic systems, and will give you the acknowledgments you need to provide visibility into your FDA submissions. In fact, the ESG provide three separate acknowledgments to ensure the submission was sent.
3. eMDR using the ESG is faster: Manual submissions can take up to 5-7 days for response. The eMDR will take 5-7 minutes for a response. Enough said.
4. The FDA is ready for you: The FDA just recently upgraded their hardware and servers to handle the influx of eMDRs that has been growing year over year. They have assured us that they are not only ready, but waiting for your business to begin submitting.
So, while the number of participating firms is small, the submissions have been steadily increasing, demonstrating that the system is capable of handling these electronic submissions. Time will tell if they can actually handle the 60,000+ Medical device firms in the U.S.
Best to get started now.
Free White Paper
Enhancing Collaboration with the FDA through MedWatch Plus
You will learn
• Benefits and best practices of using the FDA's MedWatch Plus program
• Best practices of implementing a MedWatch Plus system to meet specific business needs
• The Future of MedWatch Plus for Life Science organizations