Why Marketing is Important for Your Quality Management System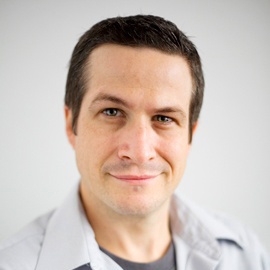 I've talked in the past about how much people hate to change (including members of my family...sorry, dad). But, in reality it's not necessarily that people have so much of an aversion to change, it's more about motivation to change.
If I were to give you $1000 to switch to my car brand, you are certainly more likely. Or, if I associate my energy drink with your favorite sport, then you might feel compelled to drink my highlighter-colored, sugar-filled beverage. I'm talking about marketing - the one thing that we are exposed to every day. Believe it or not, consumers today encounter from 3,500 to 5,000 marketing messages per day - so we are no stranger to "the pitch".
Perhaps one of the biggest obstacles in user adoption of a new Quality Management System or Environmental Health and Safety System is getting people excited about it. Let's face it - QMS/EHS deployments are not a call for cake and ice cream - it's more of a tool that is necessary for business. But part of user adoption and acceptance is inspiring people to use it. It's one thing to have to use the system. It's a completely different thing to want to use the system. Here are just a few techniques in how to effectively incorporate a little Marketing into your Enterprise QMS or EHS rollout:
1. Give it a Good Name: More often than not, the software vendor's name sticks with the company, but there is rarely a clause in the agreement that says you can't rename it. So why not give it a name that will resonate with your company? One company wanted to eliminate the "Quality" from his QMS so that employees outside of the Quality department would be interested. So he renamed the software Enterprise Processes for Integrated Compliance - "EPIC". Now that's a cool name. Another company didn't even try the acronym route, they just named it "Turbo". Now, who wouldn't want to work in "turbo" all day? A good name goes a long way.
2. Dress it up: Most software solutions are flexible and configurable enough to change not only the business processes and workflows around the tool, but also change the look and feel. Take advantage of this flexibility and brand your solution to match your company's colors, logos, and corporate look. People love to feel at home in a new solution, and having the same "decor" helps to ease the transition.
3. Run your own Mini-Launch Campaign: We're not talking a big-budget advertising campaign-this is just a little marketing to get people excited about the upcoming rollout. Again, you're trying to inspire people, make them excited about a software implementation. You don't need to be a seasoned marketing executive to run a "campaign". All you need is a little slush money and a printer. Here are just a few ideas to get you going:
Teasers: The best thing about teasers is you don't have to do much to create a buzz. Innocuous phrases get people's minds running. In the case of the "EPIC" launch, this company posted signs all over the office, which looked like this: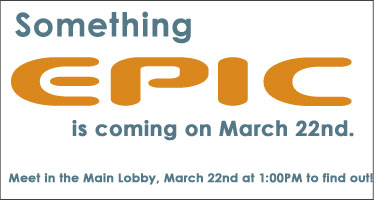 This caused quite a stir in the office, and everyone began talking about "EPIC". The key is to keep it a secret till launch day - that's the tease folks!
The Launch Party: This does not need to be a hip-hop rave, nor does it need to be a black-tie gala. Everyone still has to work - a simple gathering with catered lunch is more than enough. In the case of the EIPC launch, the customer ordered lunch for the team, had a sign made up and a cake with the EPIC logo on it. Never underestimate the power of free food. They sat...they ate...they saw the new system.
Incentives and Raffles: If you have some extra slush money, maybe you want to invest in a few promotional items or a raffle for the launch. You can even ask the software vendor for a few of their incentive items for the launch - they would be more than willing to help out. Everyone loves gifts, and if you associate gifts and rewards with your new system, it becomes a pleasurable experience for the users. "Remember the EPIC launch? Yeah, they gave out food, free stuff, and raffles - it was great. What a great system!"
4. Keep the Dialogue Going: Every system launch goes through it's "honeymoon period" when everyone is buzzing about the system. The key is to keep it in people's minds, after the honeymoon is over. Email newsletters are a big help here - create a monthly newsletter to let your company know what is going on in the system. This can be company wide or just in your area. Let them know how many CAPAs were processed, how the system has improved Quality, or where to find the new Document Control module you installed. Communication helps to keep your system at the forefront of their minds.
With just a little bit of marketing, you can turn an ordinary Quality Management or EH&S Management system rollout into something special for your team. They worked very hard to get the system up and running - why not a little notoriety and fun in return? You'll find that you not only have rewarded your employees for the effort, but you've also inspired people to adapt and use your new system.
Free White Paper
An Insider's Guide to Selecting a Quality Management Software System
You will learn
• Top software components
• Best practices when selecting a software vendor
• Pitfalls to avoid
• Business cases for each consideration