Three Reasons to Manage Supply Chain Quality in the Cloud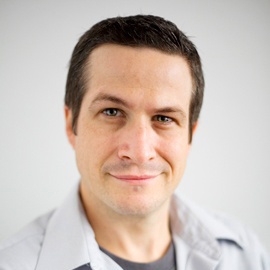 There seems to be an increasing emphasis on the supply chain in recent years. As the product lifecycle speeds up, so does the need to source the right suppliers that can dance in step with our drive to meet demand and remain competitive.
Here's the rub - we can control our own Quality process, but can we really control supplier quality?
Suppliers are who they are - they follow their own Quality procedures, and we have internal methods for rating our suppliers. Inspections, Supplier Rating, Supplier Risk Management - all these are designed to make sure the suppliers we source are "in step" with our Quality. But at the end of the day, suppliers are not participating in the brand owners quality system. There are inherent challenges to enabling supply chain quality:
Fear, Uncertainty and Doubt: We simply don't want our suppliers in our system. While we value their business, there are security concerns we can't ignore. While it is important for suppliers to be involved in your process, it can be a detriment if too much access is granted. So, many companies opt not to integrate with suppliers; simply out of security concerns or fears they may "know too much".
While a valid concern, eliminating your supplier completely from your system can harm your efficiencies in the relationship, increasing gaps in communication and limiting quick resolution of quality issues.
Technology Prevents a Relationship: Often, technology plays an important role in how your systems integrate with those of your suppliers. If your systems differ from those of your supplier, then there may be technology hurdles to overcome. It is sometimes difficult and costly to bridge the technology gap, and many companies are reluctant or do not find it cost-effective to make the effort to integrate.
This results in gaps in communication from one system to the next, and overall traceability of quality processes suffer. Being able to communicate with your supplier on a technology level is critical in maintaining a consistent system.
These were valid concerns once, but now we can have our cake and eat it too - within the Cloud.
Cloud Computing has made it easier to provide "virtual environments" that can bridge the gap from your four walls to the rest of the world. When overcoming the challenges to true Supply Chain Quality, creating a Cloud-based Supplier portal can be the key to visibility into incorporating your suppliers into the process.
Here's how it works: Your system sits safely behind your four walls, and communicates with a supplier portal in the cloud environment. This enables you to provide limited data to the supplier (Corrective Actions, Audit information, etc), and limit their access to the most critical items. The Suppliers are able to collaborate with you in your system, without actually being in your system.
It's like that big glass wall at the bank that sits between you and the bank teller - sure, everyone's friendly enough and we can exchange things through the little opening, but everything else is off limits.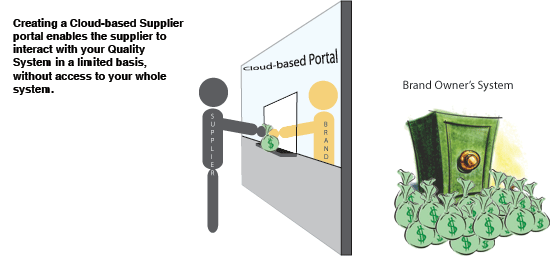 Here's why Cloud based Supply Chain Quality Management makes sense:
1. Cost: The overall costs of hosting a system in the cloud is minimal compared to the effort taken to implement a new enterprise system that can communicate from supplier to brand owner. One of the big reasons suppliers do not communicate with brand owners is cost - this eliminates that element.
2. Minimal IT effort: In concert with cost, the IT footprint can be an obstacle to achieving a collaborative, integrated environment. IT simply doesn't want another system to manage. With a cloud based environment, there is no hardware to maintain, no software to install - the system is virtual. IT never needs to be involved.
3. Maximizes Visibility: The cloud can bridge the gap from the brand owners system to the supplier, and vice versa. With the ease of Internet access, the suppliers can retrieve critical quality information from the brand owner, and the brand owner can review quality information from the supplier. This concept maximizes the visibility within the supply chain, while minimizing the risk of brand owner visibility.
Supplier Management is all about controlling your supply chain. This includes logistics, sourcing, purchasing, and Quality. Being able to control how your suppliers handle poor quality is key to ensuring that the suppliers follow your proven quality standards. Through the cloud, you can create a effective portal of communication to ensure the process is seamless down the supply chain.
Free White Paper
Taking Quality Outside your Four Walls: An Integrated Approach to Supplier Quality Management
You will learn
• Best practices to consider when integrating your QMS with your supply-chain
• How to overcome challenges of the lack of visibility into a supplier's process
• How one company incorporated their automated Quality Management System to include supplier management tool to ensure their overall product compliance