Look Under the Surface: 4 Things to Ask a Compliance Software Vendor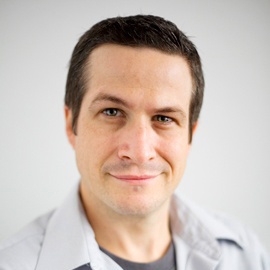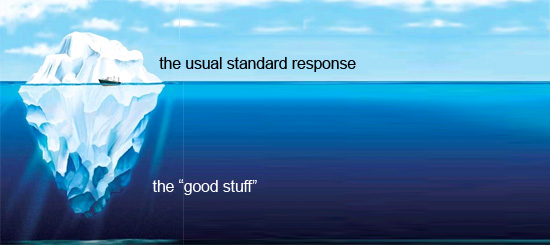 In this day and age, very rarely do people buy anything without doing their research. I recently went to a car dealership to help my mother lease a new sedan, and was fully prepared for a fight. I had my negotiating strategy all lined up, I knew the ins and outs of lease agreements, I checked and double-checked the best pricing available. Imagine my surprise when the car dealer sat us down and gave us a completely reasonable price right out of the gate. This completely threw me off. "Perhaps this was his intention" I thought, "He warms up to me then hits me with some hidden fees." But no, the whole process went very smoothly and honest. I finally asked the dealer why he didn't try to get a little more out of me. He replied, "Because every customer that comes in here has done their research on the Web – they already know what the 'best price' is, so it doesn't make sense to try and inflate the price."
As we drove off in our brand new (and reasonably leased) car, I started thinking about the buying process for Enterprise software systems. In many ways, the buyer has so many tools available to research vendors and understand the pros and cons, we see a much more informed and educated enterprise buyer. Web-based research will give you some of the key areas to rate a vendor on, such as:
Market expertise

Features and Utilities

Broad Company overview

Pricing and Support structure

Breadth of applications offered
All these things can be commonly found after some basic research, and a few discovery demonstrations. However, we still see cases where a company has selected a vendor, and that vendor continues to fail on their delivery of the solution. You would think that these failures would be picked up on during their extensive, informed research, but there is more to a company than the above bullet points. Below are some additional considerations to be aware of when selecting an Enterprise vendor – ones that go beyond pricing, features, and tools.
1. Implementation Track Record: One of the primary reasons software implementations fail is a lack of communication and project management within the implementation team. To put it more simply, the project scope goes over time and over budget. Often (and especially in the Compliance software market), the software sale draws so much focus, that the service element becomes an afterthought. Look for a vendor that has a proven track record of implementing their solutions successfully, and make sure to spend some time reviewing their strategy. Proper implementations, whether large or small, should incorporate some element of project management that involves both parties. The best way to find out if the implementation methods are "proven" is to look for proof from existing customers – and my next point.
2. Customer Satisfaction: Today's enterprise software buyer will no doubt ask for references. Most vendors will gladly turn you towards their go-to reference or load you up with case studies. And most buyers will discuss the cursory questions – "What do you like about the software", and "does the software meet your needs", etc. When doing your reference call, it is also a good practice to delve into some more intangible questions. Remember, Enterprise software is not only an investment in a solution; it can be an investment in the people within the company. Questions like "What do you think of your account manager or service manager", or "Do they respond to your needs at this company", or even "What is their user conference like" will give you a deeper insight into how this company operates. These types of questions (which may seem silly at first) add dimension to the vendor, and also give you an indication of the health and longevity of the company. You want to invest with a company that will be around for as long as you continue to work with them, which brings me to the next point.
3. Financial Well-Being: As I said above, you are investing in an Enterprise solution and the company behind it. It is critically important that you feel comfortable about the company's financial well-being as well as their product offering. In this day and age, software companies are being bought and sold, and a company's control is sometimes in the hands of a venture capitalist rather than a software architect. In some cases, the software vendor is a minority shareholder in their own company. Venture capital investment, loans and lines of credit to keep operations going – truth is, a software vendor may have more debt than equity. Don't hesitate to get financial information from the vendor. Now many may not be apt to opening their books for you, and that fine –there are a few ways to get an accurate financial picture:
a. Search the Web for Investment News: vendors may not actively promote when they are bought or invested in, but the investors love to talk up their portfolio. Look for press releases from investors on your vendor, and read carefully on whether the investment firm is providing capital, or actually purchasing the vendor.
b. Ask for a Debt to Equity Ratio: This is a great way to see the financial health of an organization without prying into their books. The Debt to Equity ratio will indicate how much they owe versus how much they own. Be wary of vendors with high ratios – chances are they may be burning more cash than they are bringing in.
c. Annual Growth Rate: Average growth percentages over a 3-5 year period are nice, but the vendor could have had one great year in year 1, and the next 2-4 years they declined. Compounded Annual Growth Rate provides a more accurate depiction of how the company has fared financially over the past few years.
d. Annual Net Income Growth Rate: Another good metric to asses the health of a vendor is to examine the net income growth, which is essentially the vendor's profitability. They could have a decent revenue stream, but are they profitting enough to sustain themselves? Net Income will give you an idea if the vendor can stand on its own two feet.
These are just some basic ways to understand the health of the company. A healthy company that invests money back into their product and plan for the long-term will ultimately result in more product innovations, providing you with services for years to come.
4. Proof of Concepts and Workshops – Take the "Pepsi Challenge": If you get to a point where two vendors are equally adept, then it might be time to suggest a workshop or proof of concept. These are typically 1-2 day engagements with the vendor whereby you give them a simple set of requirements, and ask them to implement it on a small scale. It's like a "test-drive" of the system on your terms and using your processes. What makes it powerful is that you can get a glimpse of how your future relationship with the vendor will be, and how they work when implementing your solution. These workshops can be time-consuming (and occasionally a pay-for exercise), so reserve this for special circumstances.
In our world where we have all the information at our fingertips, it's sometimes easy to say we know everything. But there are still those data points that are not publicly known, and getting the right answers can make a big difference in your decision. So it important to do your research and come to the table prepared, but don't be afraid to ask for more information on your Enterprise Software solution.
Free White Paper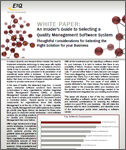 An Insider's Guide to Selecting a Quality Management Software System
You will learn
• Top software components
• Best practices when selecting a software vendor
• Pitfalls to avoid
• Business cases for each consideration