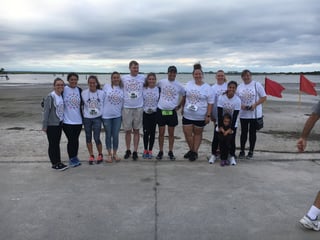 The 2017 Marcum Workplace Challenge was a huge success! The Marcum Challenge was a 3.5-mile run/walk for charity and Long Island's largest office picnic.
The EtQ Fun Committee put together a great picnic for our employees who came to participate in the run/walk. We had a handful of team members competing in the race and invited friends and family to come join us!
This year, the event attracted more than 12,000 participants from 195 corporate teams and we are proud to have been one of them. Since the tradition began, the Marcum Challenge has raised more than $700,000 for charity beneficiaries including the Long Island Children's Museum (LICM), Children's Medical Fund of New York, Long Island Cares, Inc – The Harry Chapin Food Bank and the Nassau County Society for the Prevention of Cruelty to Animals.
I've taken the time to talk to our NY office to see how they felt about the race—here's some of the feedback I was given:
"It was great to see representatives from your hometowns as a centralized unit outside of office walls for a good cause." – Kelly
"It was fun to spend time with the team outside of the office on a beautiful night at Jones Beach! Even though the end was my favorite part, (who likes to run?!) it was a warm summer night and socializing in the fresh air was a nice change, while helping our community." – Tim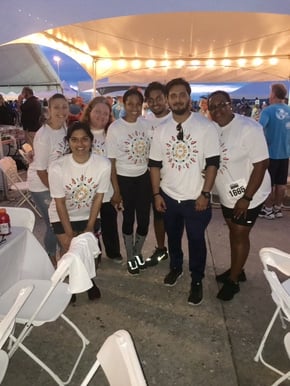 "It was really nice to get to do something active with my coworkers, while benefiting those in need!" – Alexa
The Marcum Challenge had a DJ for all to enjoy and a bit of competition to liven up the night. There were categories for:
Top 5 Overall Male and Female Finishers
Overall Male and Female "Top Dog" (Most Senior Executive)
Top 10 Men's, Women's and Coed Teams
Largest Team
"The Legal Challenge" – Top Male, Female and Coed Teams from a Law Firm
"Healthcare Industry Challenge" – Top Male, Female and Coed Teams from the Healthcare Industry
First Responders' Challenge – Top Male, Female and Coed Teams
John E. McGorry Jr. Spirit of the Race Award
There was also a design category for how creative attendees can be with their company event t-shirt (so that we can see representation of all the wonderful companies in attendance) as well as a category to submit the winning design for next year's t-shirt. The Marcum Challenge was a chance at healthy fun with our team members while helping local charities.
If you liked this post, be sure to check back and see where our office is heading next!
Visit our careers page to learn about the positions we have available.