6 Signs You Need a Food Safety Management System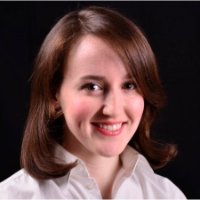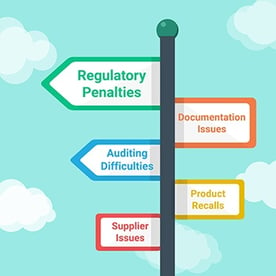 Listeria. Mislabeled packaging. Foreign supplier issues. Dozens of risks threaten food companies today, especially as the global supply chain grows more complex.
With recent regulatory advances like the Food Safety Modernization Act (FSMA), many companies are making significant progress in addressing food safety protections. And yet, many don't recognize the need to implement formal Food Safety Management Systems (FSMS) until it's too late. In this post, you'll learn the 6 classic signs it's time to adopt one in your organization.
1. Product Recalls
The top sign your company needs an FSMS is if you've ever had to recall a product. Widespread recalls of listeria-tainted ice cream were a huge wake-up call for the food industry, especially with investigations showing contamination was detected but not addressed at its source.
When you look at the enormous financial and reputational risk of product recalls, it's easy to see how an FSMS is a relatively small investment.
2. Regulatory Penalties
No matter how strong your profit margins, no company can afford to throw away money on regulatory fines. If the FDA has levied regulatory penalties against your company, it may be a sign that you need more formal processes in place to protect consumers.
Establishing a HACCP program or certifying to international standards like ISO 22000 and GFSI will help you create an FSMS that takes a proactive approach to food safety. If you use automated software, it will also keep you up-to-date with regulatory changes like those expected as part of FSMA.
3. Supplier Issues
Food quality or safety issues that originate with suppliers are a strong sign that your company needs an FSMS. These types of problems are practically inevitable in our increasingly complex global food chain. What matters is how you handle them.
An FSMS that includes Supplier Management tools let you expand risk awareness beyond HACCP into the supply chain itself. Key capabilities to focus on include:
Automatic KPI tracking for suppliers so you can make better sourcing decisions

Inspection and sampling plans updated based on the supplier's rating

Secure online supplier dashboards to show suppliers their ratings and open Corrective Actions
4. Repeat Mistakes
In the food industry and many others, the biggest disasters seem to be those that stem from repeat mistakes (just look at the listeria example). In fact, it's usually a sign that a company doesn't have effective Corrective Action processes in place.
An FSMS should include Corrective Action systems that ensure any problems you discover are handled quickly, in a way designed to systematically reduce risk. No matter what kind of system you use, your Corrective Action process should have procedures to:
Automatically route Corrective Action requests through a defined process (typically review, root cause analysis, action taken and verification)

Prioritize open requests by risk, so the most important issues get handled first

Delegate action items when key personnel are away, plus Escalation policies to kick requests up when they aren't handled on time
5. Auditing Difficulties
Food safety audits are a complex process, whether for internal use or to prepare for external certification. It can be difficult to get them scheduled, they involve a lot of preparation and following up on findings is often time-consuming. If your company struggles with preparing for and getting results from your audit program, it may be a sign you need an FSMS.
A strong audit program is essential to an effective FSMS, and many systems today allow you to:
Access checklist templates so you're not reinventing the wheel every time

Launch Corrective Actions linked directly to audit findings

Perform mobile audits with a tablet, eliminating the need for printouts and automatically updating the audit record for you
6. Documentation Issues
Depending on the type of food you handle, you're likely required by the FDA to retain food records for a period of two years. Sure, you may have these documents stuffed in some out of the way filing cabinet, but could you easily locate them if asked?
Having an effective Document Control system is important, not just for regulatory checks but also for centralizing protocols and policies in a revision-controlled environment. If your documents are a wreck, you're likely to see other problems that result from uninformed staff or poor compliance with SOPs.
If any of these worries have been on your mind, it's time to sit up and take notice. Don't ignore the warning signs—establishing a strong FSMS could mean the difference between the success or failure of your company.
On Demand Webinar:

Preventing Listeria Contamination–A Practical Guide to Food Safety Controls
This webinar provides practical guidelines for preventing contamination of products with L. monocytogenes, including controls directed toward preventing contamination of product surfaces and preventing the establishment and growth of the organism in niches in the food processing/preparation environment.