5 Spring Cleaning Tasks to Reduce Safety Issues + Social Crisis Management [Blog Roundup]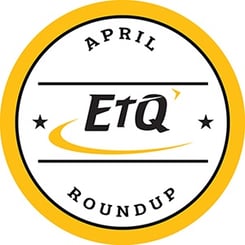 This week's EtQ roundup will consist of all of our April blogs so far. We have topics surrounding risk, social crisis management, reducing incidents and more. Enjoy!
A Tools-Based Approach to Risk + What Medical Device Manufacturers Can Learn from Superbug Outbreaks
This week we have our Life Sciences roundup. We've curated industry articles regarding taking a tools-based approach to risk management and the role risk management plays in compliance. You can also catch up on our recent blog post on what medical device manufacturers can learn from superbug outbreaks. Read on.
---
5 Spring Cleaning Tasks to Reduce Safety Issues
Spring is here, and the summer travel season is coming fast on its heels. It's a great time for cleaning out your wardrobe, getting organized on home maintenance projects and, at work, evaluating safety processes to see where improvements are needed.
To help you start off the season on the right foot, we've put together a list of spring cleaning tasks you should perform in your Safety Management System (SMS) to reduce incidents and injuries. Read on.
---
Social Crisis Management – How Vulnerable is Your Food Supply Chain?
Consumers demand openness and they aren't afraid to speak out. Activism is rife across social networks, and it's getting closer to the boardroom – even shareholders see themselves as moral arbiters. Transparency has never been so important, in a world dominated by megatrends such as climate change and population growth. And yet, transparency is hard to achieve on a globalized scale.
The EU's agri-food sector is becoming increasingly industrialized and with industrialization come massive-scale scandals with global supply chain failures such as Thai trawler slavery and widespread food fraud incidents. Infant formula, cocoa and chorizo are just three products recently exposed as being prone to adulteration. In addition, activists persistently accuse the industry of dependency on polluting chemicals and fossil fuels.
The complexities inherent in food supply chains – multiple SMEs, cultural diversity and different expectations – may make pervasive openness seem impossible. Plus, openness has to be balanced with the need to remain competitive. Social crisis management, however, is all about transparency, and transparency requires a forensic examination of processes. Read on.
---
5 Safety Policies That Can Reduce Your Incidence Rate
Trying to move the needle on incidence rates can sometimes feel like trying to squeeze blood from a turnip. You're tracking employee training, you have established corrective action procedures, you have regular safety meetings.
What else can you do to reduce illnesses and injuries? Here are 5 policies that can make a difference when it comes to reducing your incidence rate and improving safety performance. Read on.

Video: What to Look For When Selecting a Quality Management Software Solution