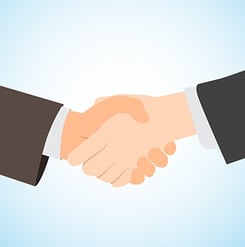 If your company works with contract manufacturers, there's huge value to improving the strength of those relationships. That's because setting up new contract manufacturing relationships takes a considerable investment of time and resources, also introducing risk to your organization.
Instead, working together toward common quality metrics results in improvements that deliver better products, increased profits and better customer satisfaction.
How do you get there? Technology is the key. Here are 3 tips to help you leverage your technology for more effective collaborations.
1. Open the Lines of Communication
Communication is what forms the basis of any relationship, whether we're talking about our business or personal lives. From semiconductor to pharmaceutical manufacturing, leading organizations have long recognized the value of integrating systems like Enterprise Resource Planning (ERP) with those of their contract manufacturers.
However, some companies are still lagging when it comes to integrating other systems like Corrective and Preventive Action (CAPA) and Quality Management Systems (QMS) that could improve their work with external partners. In fact, a 2013 survey showed just 13% of pharmaceutical manufacturers have connected their QMS with that of their contract manufacturers.
Connecting your CAPA and QMS systems with suppliers allows you to:
Get real-time alerts for problems.

Resolve problems faster through tighter integration of CAPA workflows.

Identify inefficiencies and process improvements.
If your contract manufacturers or suppliers don't have these systems, you can still promote better communication by granting them controlled Web-based access to your QMS. This allows them to view their quality performance metrics and open Corrective Actions, so they can then work to correct any issues. While many in the past have been hesitant to open up their systems because of sensitive proprietary information, modern systems allow administrators to tightly manage permissions and security for any level of data.
2. Set Clear Expectations
It's not enough to simply have a framework for open communication. It's also essential that you're clear about the expectations you have for contract manufacturers. Without clear goals and expectations in mind, you can be sure problems will crop up as suppliers and contract manufacturers struggle to meet your needs.
Key components to setting the relationship up for success include:
Establishing and communicating the quality metrics and KPIs used to evaluate contract manufacturers.

Using the QMS to track and manage compliance with supplier quality agreements.
Using faster, more user-friendly Reporting tools that provide actionable graphs and insights in place of complex Excel spreadsheets.

Conducting regular Audits of contract manufacturers to ensure they comply with quality standards.
3. Follow the Golden Rule
One common mistake companies make when working with third-party suppliers and contract manufacturers is viewing them as nothing more than an interchangeable contractor. The reality is, it's not just a faceless company you're working with—there are real people invested in the relationship, and treat individuals as just cogs in a wheel erodes trust.
Instead, you should always approach these relationships in the way you'd like to be treated. What does that mean in a business relationship?
Respect your partners and ask for input. Your contract manufacturers likely can do more than simply execute projects, so you should seek their input when it's feasible. In fact, your partners may have valuable expertise on how to improve the actual design of your products.
Use common courtesy. Treating partners the way you'd like to be treated includes things like making time for face-to-face interaction and ensuring you don't waste people's time during meetings.
Work on yourself. Know how annoying it is to have to work within others' inefficient processes? Avoid frustrating your contract manufacturers and suppliers by continually working to improve your own internal processes.
Outsourcing offers companies many obvious benefits, like increased flexibility, faster time-to-market and lower overhead costs. However, achieving these efficiencies is easier when you can count on stable long-term relationships with contract manufacturers. It's a tough job when you consider that many companies have their hands full managing their own processes and facilities. But if you leverage your IT systems correctly, it might not be as hard as you think.

Risky Business: Why Excluding Suppliers From Your Quality Processes Could Cost You