150,000 Tons of Food is Wasted in the US: How Automation Can Help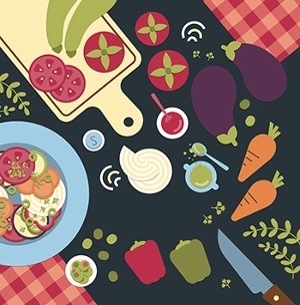 Americans waste 150,000 tons of food each day, which is the equivalent to a pound per person, says the Guardian. According to the article, research shows that people with healthy diets that are rich in fruit and vegetables are in fact the most wasteful. The article states that, fruit and vegetables require less land to grow than other foods but in turn, require a large amount of water and pesticides.
It explains, "This waste has an environmental toll, with the volume of discarded food equivalent to the yearly use of 30m acres of land, 780m pounds of pesticide and 4.2tn gallons of irrigated water. Rotting food also clogs up landfills and releases methane, a powerful greenhouse gas."
Lisa Jahns, a nutritionist at USDA and co-author of the study, said, "we need a simultaneous effort to increase food quality as well as reduce food waste. We need to put both of those things out." Further stating that food waste occurs from farm to plate in the US. A report by the Center for Biological Diversity states, only four out of the 10 largest grocery chains in the US have specific food waste reduction commitments and a further 10 don't prevent the waste of food considered too cosmetically imperfect to sell.
Jahns also says that consumers in busy households do not prioritize the time and energy it takes to prepare food.
What can we do? I'm glad you asked!
To increase food quality as well as food waste, retailers must change food safety practices and consumers need to change food habits. To start, the Food and Beverage industry must meet or exceed proper standards. For example, the ISO 22000 standard requires a commitment to food safety and the documentation of procedures, hiring of competent food safety personnel and to specify acceptable food hazard levels.
Harvard Business Review says, "advancements in automation are being used in Whole Foods and Target in the U.S. and have enabled stores with software to input their shelving sequence layouts." This makes it possible for products to move directly from distribution warehouses to the retail floor. Before, the article states that retailers relied solely on personnel to move goods from the warehouse to the store. This ultimately took more time and allowed fresh foods to perish. Automation now also allows retailers to label foods with "best-by" dates. However, this is also a responsibility of the public to understand that "best by" does not mean "expired". Knowing the difference and playing a role in food quality is important to reduce waste.
Food retailers must also modify or eliminate old school practices, which unintentionally increase food waste. Supermarkets, as stated again in the Harvard Business Review, "have embraced high cosmetic standards, leading to the rejection of imperfect-looking fruits and vegetables." The article suggests companies sell those previously disregarded vegetables instead at discount prices or donate them. This also, becomes the consumer responsibility, in which consumers would have to put what they see as the idealistic shapes, color and sizes of fruits and vegetables aside.
Lastly, the Harvard Business Review, suggests retailers partner with farmers. "It is estimated that 7% of produce is left unharvested each year." This is due to the tendency to grow more that needed to compensate for weather, disease and fluctuating sales. The review states that if retailers work directly with farmers and encourage intermediates to collaborate with farmers, agricultural food waste can be significantly reduced.
Automated software can help with food safety by ensuring retailers comply with food safety laws, communicate with their supply chain, monitor events and set controls to increase efficiency.