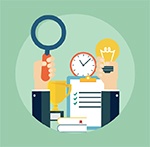 These days, it's not enough to just survive in the business world—you need to thrive. There's so much competition across all sectors that it's no longer enough to just be enough. To really succeed, you need to excel standard business practices to achieve something greater. We call that "operational excellence."
The challenge facing businesses is figuring out how to achieve operational excellence when so much of your time is devoted to handling everyday operations. But there's a simple solution.
Automating basic tasks with quality management software frees up time and resources, putting everyday tasks in the hands of automation and putting operational excellence within reach. So, what steps can you take to quickly take your business to the next level? We have some ideas.
1. Tear up the paper
It seems obvious that automation requires a deviation from paper-based systems, but some organizations still cling to old habits. Save time, money and effort by swapping endless stacks of paper for digital and automated systems.
2. While you're at it, clear the inbox too
Paper records aren't the only out of date systems. Inboxes and spreadsheets are things of the past, too. Dumping valuable and sensitive information into insecure, disparate places does nothing but put your organization at risk, allowing information to be ignored in inboxes and lacking business-wide organization.
3. Make the data work for you
Why spend valuable time and effort crunching numbers when data can now be calculated for and delivered to you? With an automated process, you can skip the step of crunching the numbers and go right to making important decisions from the reports. Take action to foster improvement, faster.
4. Handle adverse events systematically and efficiently
You have to take the bad with the good in your organization. How you respond to adverse events is what can set you apart from your competition. If you have an automated, systematic approach to handling customer complaints, nonconformances or any other type of adverse event, you can move on and improve more quickly than having to do a one-off manual investigation over and over again.
5. Evaluate and mitigate risk
Don't waste time thinking up contingency plans for all possible outcomes and events. Let an automated system take the guess work out of the equation by prioritizing potential issues by level of risk. That way you can deal with the most important issues first and check that your controls actually reduced the risk. Now, you don't have to spend valuable time correcting issues that could have been easily avoided.
6. Get your team to be on the same page
It's hard for things to go smoothly when not everyone's on the same page. Automating document control and employee training gets everyone informed quickly and promotes a standard of operation across the whole organization. This is great for everyday tasks as well as higher initiatives of operational excellence.
7. Keep in touch, work together
It's near impossible to find someone who can remember every task, meeting note and to-do item easily and without missing any details. Utilizing notifications, reminders and other automatic communication keeps important tasks high priority without having to stop and manually check on the progress of each project. The activities are automatically logged within your system too, so team members can easily check on the project as a whole or individual steps.
8. Secure your data for peace of mind
Investing in a secure system frees up more time and resources down the road than dealing with the effects of cybersecurity attacks or breaches. Having a system in a dedicated, secure cloud lets you automate your processes without the worry of other multi-tenant software systems.
9. Move beyond your four walls
Too often people are just concerned with what their organization is doing, and not with what outside parties that affect them are doing. Automating supplier management can ensure that they are performing up to your standards and can help you quickly communicate or resolve issues in real time.
10. Scale to your needs.
Get just enough of what you need—and nothing that you don't. Configure a system that works for your specific business needs to reap the most benefits with the least inconvenience and maintenance.
Automation brings countless benefits to your organization, in just about every area. Finding the right system is the key difference between just doing what's required and going above and beyond to achieve operational excellence and other initiatives.