On the surface, risk ma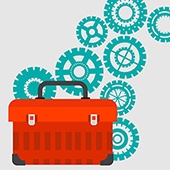 nagement in the life sciences industry seems a gargantuan undertaking. With today's rapidly accelerating product lifecycles, increasing consumer demand and fierce industry competition, companies must find a way to bring products to market faster without putting consumers at risk.
In any new product development, hitting the optimal time-to-market window is a huge concern. However, it's more easily achievable with a standardized process for making decisions in a way that continuously reduces risk.
With that in mind, this post looks at the critical tools underpinning an effective risk management process, evaluating how life sciences companies can use them to make better decisions faster.
1. Failure Modes and Effects Analysis (FMEA)
The best place to manage risk is during the design phase, not when it comes time for product testing. The most important tool here is Failure Modes and Effects Analysis (FMEA).
FMEA identifies all the possible ways a product could fail, potential consequences and existing controls to prevent failure. The tool allows you to calculate detection ratings and risk levels, providing quantitative risk information to prioritize risk mitigation efforts.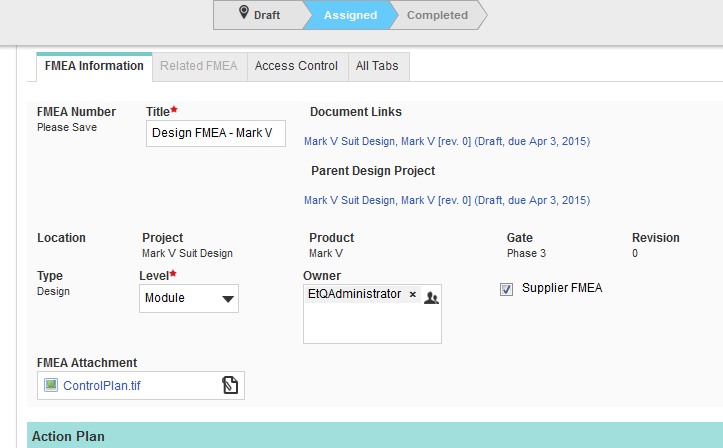 Within your Compliance Management System, you can use FMEA applications to:
Create different types of control plans and control plan templates.
Link FMEA records with existing controls.
Incorporate FMEA as part of your change management process.
2. Risk Matrix
The risk matrix is a versatile tool that you can apply to a multitude of processes and events, including Corrective and Preventive Actions (CAPAs), audit noncompliances and customer complaints.
A risk matrix plots varying degrees of probability and impact on a color-coded chart, allowing you to quantify the risk of the event. Red represents generally unacceptable risk, while green represents generally acceptable risk.
So what about the middle region? Where is the official boundary between acceptable and unacceptable risk? That depends on your internal company policies. Vetting your risk matrix against historical data, management can determine the precise numerical value (or range) that would require a new control or reworking the process.
Once you've done the important work of vetting your risk matrix and establishing clear guidelines, it makes any decision that much simpler. If you're using integrated GMP Compliance Software, you should be able to drop a risk matrix into any application where you want to use risk as a factor in your decision-making.
3. Bowtie Risk Assessment
Bowtie risk assessment is a risk model used to prevent and mitigate the effects of rare but potentially disastrous events. Oil and gas companies use it to reduce the risk of events like wellhead blowouts, while the aviation industry uses it to prevent loss of control events that could lead to a crash.
Today, many in the life sciences industry are adopting the bowtie model to prevent issues like contamination that could have a similarly widespread impact on consumers.
At the center of the bowtie model is the hazard in question. Fanning out to the left are preventive controls, and to the right are the recovery controls that help minimize the impact if the event does occur. Collaborating with other team members and subject matter experts is key to conducting a robust bowtie analysis and ensuring you have a complete picture of the risk.
4. Risk Register
The final tool in your toolkit is the risk register, which allows you to centralize all risk items for a high-level view of product and design risks. Quantitative Risk Management software that leverages the tools described here makes it easy to:
Pinpoint the most critical items with risk-based filtering.
See risk items in the context of various processes such as change management initiatives, equipment maintenance and audits.
Identify underlying trends and common sources of risk.
Risk management has become somewhat of a buzzword these days, but it's important not to forget the reason why it's so important. It's not just something you should do because someone says you should—there are real people involved, parents, children and loved ones who use these drugs and devices, implicitly trusting their safety. With that trust comes great responsibility for the companies behind the products.